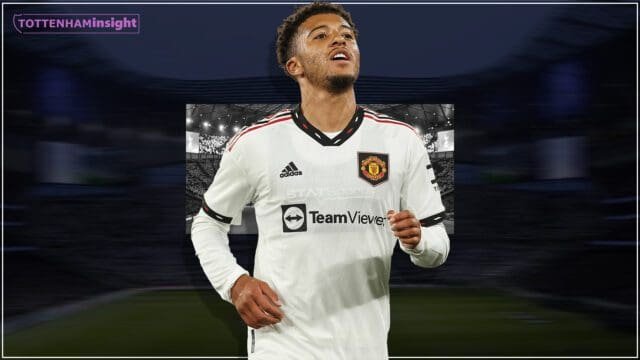 According to Daily Star, Tottenham Hotspur are reportedly preparing a surprising £50 million offer to acquire Manchester United winger Jadon Sancho.
This transfer story is a huge surprise as the Red Devils had paid a hefty sum of around £73 million to sign Sancho in the summer of 2021. At the age of just 23, his future at Old Trafford appears uncertain.
Sancho has long been touted as a very talented player who has been destined for the biggest things in English football. The kind of promise he showed during his time at Borussia Dortmund made him one of the most sought after players in the world. The 23-year-old former Manchester City youth player has struggled since his move to Manchester United. Yes, the promise has been there for everyone to see – however consistency is a key factor that has been lacking in Sancho's game.
Although Sancho still has three years remaining on his contract, Manchester United are said to be seeking a fee of £50 million for the talented winger. Tottenham if they want him will have to pay the fee that the Red Devils are asking him. Considering Manchester United's significant investment in Sancho and his young age, it's understandable why they would demand a high price. He possesses the potential to become a prolific winger and holds the advantage of being a homegrown player.
With Ange Postecoglou set to take over at Tottenham as the new manager, there is absolutely no doubt that there is going to be a significant shift from the mundane defensive football that we were playing under Antonio Conte and his predecessor Jose Mourinho. There is no doubt that wingers will become key components of his system at Tottenham if his time at Celtic is evidence to go by and from this perspective, signing Sancho seems to make sense.
While the permanent transfer of Dejan Kulusevski from Juventus is still pending confirmation, the situation remains uncertain. Additionally, Richarlison, although talented, isn't a natural right-winger. Therefore, pursuing Sancho seems like a strategic move if Kulusevski doesn't stay with Tottenham.
However, Man United will not want to jump ship on him so soon, so this might be a transfer saga that leads to a dead end after all.