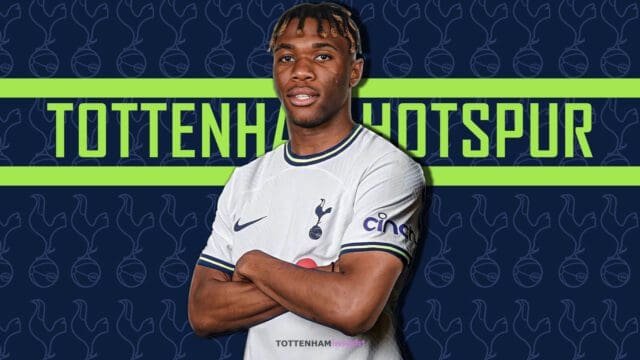 The new toy syndrome has taken over the footballing world, and the shiny acquisitions are ones that are appreciated and carried on shoulders while we forget the ones we already have. That speaking from a Tottenham Hotspur perspective is a certain Destiny Udogie…
A star in the making during his time in Italy and having multiple clubs laying off the red carpet for his signatures – and for him to choose Spurs followed by Antonio Conte publicly dismissing his needs. That'd have been a difficult prospect for anyone, and certainly for a then nineteen-year-old chap moving to a foreign country to pursue his dreams.
Luckily enough, Udinese were there to hold him during his lows – he was immediately sent back on loan to Udinese for the length of last season.
Let me start by introducing him again as a new signing and take it from there…
Destiny Udogie was born in Verona, Italy with Nigerian roots and is currently 20 years old, turning 21 in the upcoming season in November. Standing at 1.81 meters tall (approximately five feet, 11 inches), Destiny Udogie primarily plays as a left wing-back or left-back, and he can also operate as a left midfielder (more on each of these later). He is a product of Hellas Verona's academy.
Udogie joined Spurs last season for a whooping £22million and ofcourse as stated earlier – a provision to send him back on loan to Udinese. This was termed a smart investment by many Tottenham faithful. We have seen such acquisitions reap rewards for the likes of Arsenal and Chelsea, but now it's our time…
Coming to his favourable positions – Destiny Udogie is a left-back but was used as a left-wing back in Udinese's three-at-the-back formation. Despite being primarily known for his dribbling and attacking prowess, his tackle and interception numbers are surprisingly high. This suggests that he possesses defensive capabilities beyond expectations. However, he is prone to being dribbled past by opponents quite often as compared to other full-backs in the Italian top tier.
But he does stand out for contributions upfront, with the ability to be directly involved in goals time and time again. His offensive display will certainly tangram into Ange Postecoglou's want for versatile full-backs. When Ange led Australia to their first-ever Asia Cup triumph back in 2015 the full-backs played an integral role and that does churn on to his style of play as the full-backs continuously pushed forward, and both number eights simultaneously attacked to provide penetration inside or around the wide forwards.
Ange tweaked his use of full-backs a bit when he went to Japan leading Yokohama F Marinos to their first J1 League title in 15 years – his wingers maintained a wide position in front of a mobile midfield three with the fullbacks frequently making underlapping runs to add extra bodies in the center channel. The midfielders either moved closer to the striker to add another goal threat or dropped to encourage a full-back to attack. Latter perfectly suits Destiny Udogie's style of play.
And coming to Celtic where his use of full-back comes to full circle and one that fits Destiny like a final piece of a jigsaw puzzle – utilising front-line wingers who are really wide with the objective being to open up space in the inside channels for a midfielder or full-back to take advantage of.
In his debut season, it was typical to see the wingers threaten the space in back while the full-backs dribbled diagonally into it. In that case, the number eights would adjust their position appropriately which was quite reminiscent to his Australian squad. But things evolved and so did Postecoglou's back line in his second season – the defensive line would form a three with one full-back deployed in an advanced role while the other stayed in his position of depth. This allowed the broadest member of the newly formed back three to go towards midfield, which was especially helpful when playing against teams that set up with a forward two.
Destiny Udogie is not the most defensively apt full-backs but his offensive contributions and numbers are quite reminiscent to that of a Hakimi or a Cuadrado. And the importance Ange Postecoglou puts into his full-back offensively, it would be wonders to look at him thrive down the left-hand lane, especially knowing how good Son is with both under & over lappers… much like how Conte deployed Perisic.
Udogie coming back to Hotspur Way indicates a desire to add a player with flair and attacking prowess to the squad. Destiny Udogie's dribbling skills and attacking mindset make him a promising addition, potentially bringing a new dimension to the team's left-back/wing-back position. Additionally, his ability to cut inside from the left flank and create chaos further enhances his appeal with the underlapping set of play.
That being said, I could see him getting knackered at times for NOT DEFENDING and his numbers in that aspect are not that great as well, maybe fairly decent. But you need to prioritise the set of play and system of Postecoglou & his philosophies and understand that he is there for the offensive outset.
It makes me think, it makes me excited…
MUST READ:
– Ange Postecoglou to Tottenham: Dissecting the Pros and Cons of the move
– Why have Tottenham signed Manor Solomon: Exploring his fit at Spurs
– Guglielmo Vicario analysis: The man tasked with filling the huge Hugo Lloris-shaped hole at Tottenham