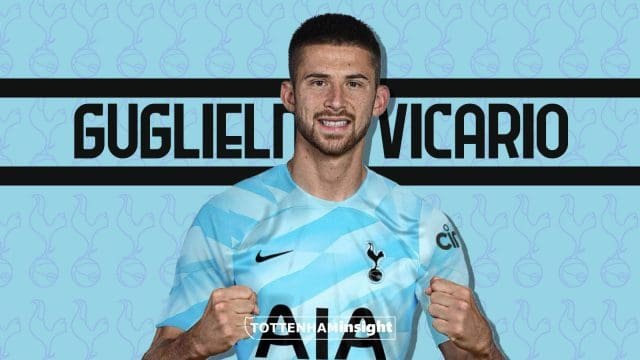 Generally, when a legend of the club departs, who has been there for a decade, is a World Cup winner, and the backbone of the team, there is a huge hole in the squad. To fill that hole, two options can be plumped for – Get a similarly big name, and hope the transition goes smoothly, or go for the unassuming choice, where the risk is great, but the reward is potentially greater. Guglielmo Vicario falls in the latter category for Tottenham as he takes the mantle from Hugo Lloris at Hotspur Way.
So, what prompted Spurs to splash the cash on a GK who was playing in Italian Serie B just 3 years ago? What are his strengths and weaknesses and is he up to the task of replacing Lloris? We find out –
Note: All stats courtesy of FBRef
Guglielmo Vicario's career retrospective
One thing can be said with absolute certainty – Vicario has paid his dues to reach this point. He has made an appearance in all tiers of Italian football – from Serie D to Serie A.
If Maurizio Sarri's managing career transferred to a player, it would look like Vicario's playing career.
He was part of the Venezia squad that won back-to-back promotions from Serie D to Serie B. After playing a crucial role in their promotion from Serie D, playing 36 games, he was backup for their Serie C campaign, making only two appearances.
His breakout in Serie B came in the 2018/19 season, where his 32 appearances were deemed good enough for another Serie B campaign, this time with Perugia.
His path has never been simple though. Signed by Cagliari in Serie A due to his good performances, he didn't establish himself and went on loan to Empoli where he has enjoyed his best work.
Being the undisputed first-choice has empowered him to be at his best and with 71 appearances in two seasons, he also recently earned a call-up to the Italian team in September 2022.
Therefore, it is clear that Tottenham are signing a seasoned professional who has ground in the lower leagues and fought for relevance every step of the way. The club needs more mentality monsters like that after a dismal last season. He might not have started his career as a wunderkind as Lloris did, but he brings the same "never say die" attitude.
Playing style: Strengths and weaknesses
For all his elite shot-stopping skills, Hugo Lloris was still a traditional goalkeeper. He did improve on his ball-playing skills a lot, but he wasn't elite at it. In fact, by the last season, even his shot-stopping skills had tanked.
The French international conceded 39 goals in 25 appearances last season from a post-shot xG of just 33.9. Vicario, for comparison, overperformed the same metric by almost two goals.
Then it's the ball-playing skills that he brings to the table.
Vicario ranked eighth in Serie A last season in terms of progressive passing distance, accumulating 16,933 yards in his 31 domestic league appearances. For a GK who was always under pressure due to Empoli's overall quality, those are remarkable numbers.
He was in the 91st percentile of all GKs in the top-five leagues in touches, getting the ball 44.14 times/90. Lloris is in the 15th percentile for the same metric.
While part of it is down to Vicario being the busier keeper, it also shows an increased willingness to be a part of the build-up play almost like another outfielder.
Vicario is a mix between a modern sweeper keeper and a traditional goalkeeper. It means that while he does have the ability to play out from the back and pick out probing passes, Empoli's game plan didn't allow for much activity outside the box as they mainly defended deep.
It can be seen from the fact that he attempted 618 long passes last year, more than twice Lloris' number of 305.
Therefore, his sweeping stats are underwhelming. In Ange Postecoglou's adventurous tactical set-up at Spurs, one should expect those to go up.
However, the area where Empoli's plan has allowed Vicario to shine is his shot-stopping skills. With the fourth-best save percentage in Serie A last season, he was a significant reason why Empoli didn't flirt with relegation.
His save percentage was 73.9%, far exceeding Lloris' figures of 67.5%. Remarkably, this is despite Vicario facing more shots than Lloris (134-117).
An area of his game which has room for improvement, and PL teams will be targeting him, is his ability to stop crosses.
Standing at 6'4″, he should be making better use of height to gather aerial balls. He was in the 42nd percentile last year, stopping 5.6% of crosses in the box. Lloris, despite going through his worst season, and being two inches shorter, saved 6.2% of crosses attempted.
The ability to command the box should come with time as he gets comfortable with his new teammates and surroundings.
In conclusion, Vicario is a player with great natural gifts which haven't yet been fully explored due to the quality of the teams he has played for.
Aged just 26, he has the potential to transform into a perfect modern goalkeeper, as good with his feet as he is at keeping the ball out of the goal.
Shot-stopping skills are a must because Ange Postecoglou's tactics, which are extremely attacking, are prone to conceding goals due to lapses in concentration. So, it is a relief that Vicario already has this part down pat.
With some improvements in his aerial game and command of the box, he can be the cornerstone of the Spurs' side for the next decade. Spurs have done well to get him since he was also reportedly targeted by Inter Milan as a potential replacement for Andre Onana.
If anything, that should delight the Tottenham fans that he was seen as good enough to replace one of the best ball-playing keepers in world football.
Now set for the Premier League, seeing his development into a world-class player should be an enticing thought for the fans.