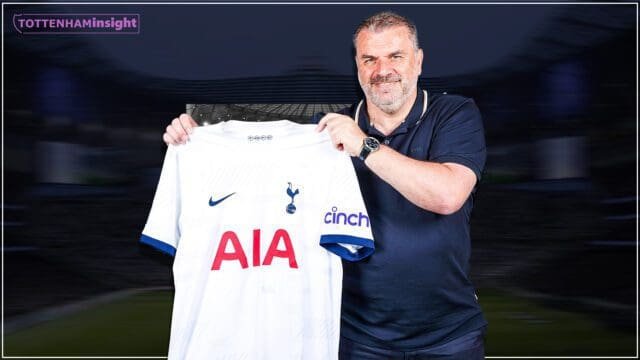 After a managerial search that went by Stellini, touched Mason, through Nagelsmann, and Enrique, the carousel has finally landed upon Ange Postecoglou. The now former Celtic manager has signed a four-year deal at Spurs as he becomes the latest man to try to revive Spurs since their Zenith under Mauricio Pochettino four years ago.
Like any other decision, this one has its pros and cons as well. Here's an attempt at dissecting those for Ange Postecoglou's move to Spurs –
Pros
Lifetime of overachievement
Ange Postecoglou has made a career out of performing miracles wherever he has been. He is renowned for making the team more than the sum of its parts. The club and the players perform a lot worse when he leaves, which is a true mark of the manager's impact on the team.
Here is a list of miracles he has performed in his managerial career so far-
Set the Australian football record for longest unbeaten run with Brisbane Roar – 36 games
Became the first manager to win back-to-back Australian leagues
Won Yokohama Marinos their first Japanese league title in 15 years, becoming the first Australian manager to win a J-League title
Joined a broken Celtics team having been battered by Rangers' unbeaten season and guided them to their record 8th domestic treble
These are four of his top managerial achievements in a career that has spanned decades across continents. Ange Postecoglou's journey is a true example of a person working their way from the bottom, and rising to the top purely due to their performance and results.
Attack on steroids
Think of the most attacking manager you've ever seen. Now dial up that attacking instinct to 11. That's when you get Ange Postecoglou's philosophy. Celtic scored 114 league goals in the 2022/23 season, a remarkable average of three goals per game. It was an improvement on the 92 they scored in 2021/22.
At Yokohama, his team might have finished 12th in one season, but they scored the second-most goals in the division. You know what you get with Ange Postecoglou- A high press, inverted fullbacks, creating overloads through the middle, and using the passing options that create in the middle to cut through opposition defences like a hot knife through butter.
A lot is said about the "Tottenham Way". It dates back to Bill Nicholson's glittering tenure at the club in the 1950s and 60s. During that time, Spurs' football was largely considered a pioneering idea of attacking in an era where defenders and physicality ruled the roost.
Mauricio Pochettino came closest to it, with the likes of Harry Kane, Dele Alli, and Heung-Min Son scoring at will under him. To go from that to multiple seasons under Jose Mourinho, Antonio Conte, and Nuno Espirito Santo is like going from the middle of an ocean to a desert.
Regardless of how his tenure shapes up at Spurs, one thing is guaranteed. Ange Postecoglou will instantly satiate the thirst for goals of Spurs fans.
Cons
Force of personality
Ange Postecoglou comes across as a very likeable individual who is honest with his players. However, to make the jump to an elite club, a little bit of steeliness is needed. Although results cure everything in the long run, managers at Spurs have rarely had the long run recently.
Even when Ange Postecoglou arrived at Celtic, Tom Rogic, as Australian himself, like Postecoglou, didn't have much belief in his appointment.
As per reports, Rogic said, (via BBC):
"I laugh sometimes when I look back. Although I knew him quite well, there was a perception of: 'Who's this guy?'"
Ange Postecoglou will have a battle on his hands when he rocks up at Spurs. His marquee striker Harry Kane looks to be itching for a move. His second-most prolific forward Heung-Min Son suffered a horrific season and Spurs themselves had their worst season in 15 years. In such an atmosphere, just being a "fresh voice in the dressing room" isn't enough.
Uniting the dressing room through the force of personality is necessary for such a scenario. With time being of precious importance, the fate of Ange Postecoglou's tenure could be decided in the first 5 months itself.
Job beyond any manager?
A message from our new Head Coach 🗣 pic.twitter.com/JjG4pdCEPk

— Tottenham Hotspur (@SpursOfficial) June 9, 2023
The Spurs job has become a poisoned chalice ever since Mauricio Pochettino left under acrimonious circumstances. Spurs fans now firmly believe that the actual problem goes higher than the manager – With Chairman Daniel Levy.
Consecutive managers in Conte and Mourinho have publicly called out the Spurs hierarchy for their lack of ambition and vision. Pochettino's tenure was running on fumes by the end as he received zero backing for consecutive transfer windows.
Although Ange Postecoglou has been a miracle worker in the past, this is the one job where the chances to fail are higher than success. A couple of losses, in the beginning, will start giving the crowd a "deja vu" feeling of failure. From then on, the momentum just turns and the team gets stuck in a vicious cycle of low morale –> bad results. The crowd will shout their frustration at Levy, and Ange Postecoglou will be stuck at the centre of it all trying to make it work.
More than a prediction of doom and gloom, it is something based on what has transpired multiple times in the last four years. Ange Postecoglou's miracles have garnered awe and respect from the footballing world so far. But if he manages to turn around the situation at Spurs, that might be the biggest miracle of his career.