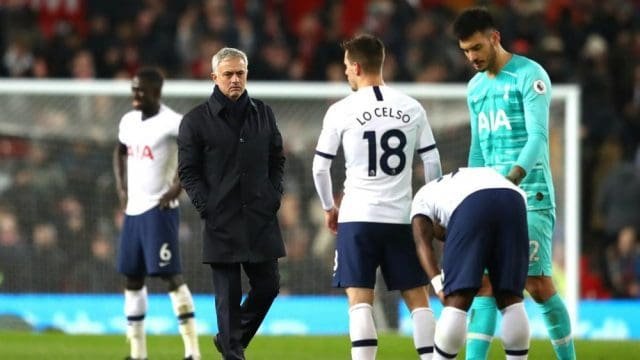 On Monday, Spurs announced to the surprise of Harry Kane while unsurprisingly for many others that José Mourinho was relieved of his duties as head coach and Ryan Mason will take charge of Hotspur Way till the end of the campaign.
Daniel Levy decided to pull the trigger just days before the Carabao Cup finals, but you could argue this was building up for some time and José was failing to deliver.
The training was kept back while Levy communicated his thoughts to José Mourinho and his staff.
Many expected this, but players were left in the dark and found out about it just minutes before the official announcement. And according to Michael Bridges from Sky Sports, some players celebrated the dismissal of 'Special One'.
"I've had some information that a few places actually celebrated the news of Mourinho's departure in the gym," Bridges told Sky Sports News. "However, the likes of Harry Kane, Heung-min Son, Pierre-Emile Hojbjerg, Eric Dier, Lucas Moura and some youngsters got on with Jose Mourinho really well and were actually sad to see him go."
Many players acknowledged their sadness over watching José leave, as many were celebrating his departure in likes of Dele Alli, Harry Winks and Danny Rose – who all have an opportunity to revamp their Spurs career with a change of managerial personnel. Although Rose was left out of the squad, he asked to resume training on the day Mourinho's departure was announced.
José is said to have spent hours with Spurs' players after his sacking, with some reports claiming he told home truths to them.
While José felt he deserved to take charge of Spurs against Manchester City in the Carabao Cup, though Daniel Levy was dejected when the Portuguese rested players in the Premier League for the same. Levy restated the importance of finishing as high as possible in the Premier League, which in his eyes is yet a priority than a league cup.
Priority or Not. Spurs play Man City tomorrow and it's something Ryan Mason and the players will be hoping to get over the line.