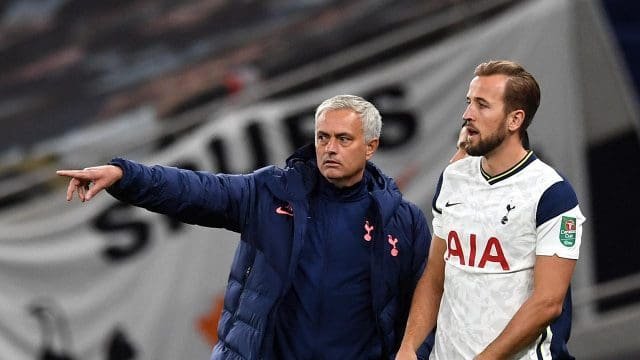 Ever since Jose Mourinho arrived at Tottenham, there were talks about how he'd help Harry Kane become a better self as many potential players have unleashed their potential under the Portuguese.
Jose Mourinho was relieved of his duties as Tottenham head coach on Monday after about seventeen months in-charge with Ryan Mason filling his shoes on a caretaker basis.
Harry Kane sat down with Sky Sports ahead of Tottenham's League Cup final clash against Manchester City where he was quizzed about Jose Mourinho and his sacking.
The Three Lions skipper expressed his surprise over Mourinho sacking and revealed he only found out about it just minutes before it was announced. "I was surprised, I'll be totally honest. I came in that morning and probably found out five to 10 minutes before it was announced.
"A lot of the focus was on the Carabao Cup final and preparing for that but, look, it's football. I've been here now where a couple of managers have been sacked and, as a player now, I don't think you ever expect the boss to be sacked but it's part of the game, you have to deal with it. I had a great relationship with Jose, I wish him all the best for whatever his next job is, but he knows as we know football can be cut-throat and we just have to look forward. We have a big final to prepare for now and we're looking forward to that."
After an injury-time winner against Southampton, Ryan Mason faces Pep Guardiola's well-drilled Manchester City in his second match in-charge as the men in White and Deep Blue search for their first trophy in thirteen years.
And for Spurs' supporters, Harry Kane's injury is heart aching as he is in doubt for the match and facing a race against time to help Spurs to a much-awaited silverware.
"I'm buzzing for him to have this opportunity and to have the experience to manage one of the best clubs in the world," Kane said of Mason, who also came up through Spurs academy. "Hopefully we can try and win on Sunday and experience a truly special moment together."