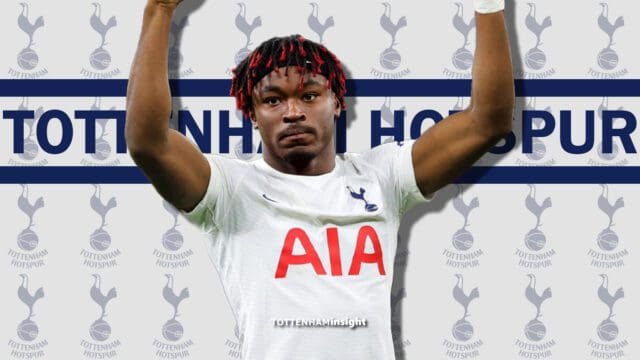 Earlier this week, Fabrizio Romano confirmed Tottenham Hotspur's interest in RB Leipzig's defender, Mohamed Simakan. Fabio Paratici's surprise move for the youngster is fueled by Antonio Conte's need for a center-back in his backline. Spurs sealed the Champions League spot last season, and Antonio Conte has already shown that he is eyeing the coveted Premier League trophy for Spurs. The North London club have already acquired the services of Perisic, Bissouma, and Fraser Forster this season. All of these deals happened on the heels of promised funds by the club's chairperson, Daniel Levy. In order to complete his defence for the 2022–23 season, Antonio Conte is seeking two new defenders, with a left-sided center-back being his first priority. Fabio Paratici has been trying nonstop to find a replacement central defender, but to no success thus far. Pau Torres and Josko Gvardiol are two names that haven't made much progress, while Alessandro Bastoni has chosen to stay with Inter Milan.
From a goal-scoring freak to a reliable defender
You would have no doubts about this center defender's talent if you had closely followed RB Leipzig throughout the previous three seasons. In almost every field, France has a sizable talent pool. Particularly in the area of defence, they have a wide variety of skills and talents. Mohamed Simakan comes from the same pool of talent. The Marseille-born player started out as a striker with FC Rouguière, his first club, scoring 130 goals for the U-11 squad. Such performances, it goes without saying, caught the eye of Olympique de Marseille, where he was immediately moved to the center of the defence. At the academy, Simakan was paired up with Kamara, the latter now being a defensive midfielder. However, his sweet transition to a defender was not met with immediate success. Despite being a reliable defender, Simakan was treated like an albatross around the neck. Eventually, he signed with a much smaller club where he played in and out and regained confidence and composure. In 2017, he signed for Ligue 1 club, FC Strasbourg. Upon his arrival, the club's president compared him with the French World Cup-winning center-back, Raphael Varane. After spending a good two seasons at the French club, Simakan joined the talent-developing juggernaut that is RB Leipzig. Originally signed as a Dayot Upamecano replacement, Simakan was usually deployed as the right center-back in the 3-man defence.
I will attempt to evaluate Simakan in-depth using The Eye Test and underlying stats to come to a conclusion about the potential effectiveness of this signing and whether I believe the French wonderkid could become a success in the Premier League.
The Eye Test
This is based on my personal evaluation of the player. I will be drawing on extensive hindsight knowledge, in-game footage, as well as match replays to evaluate Simakan in this section.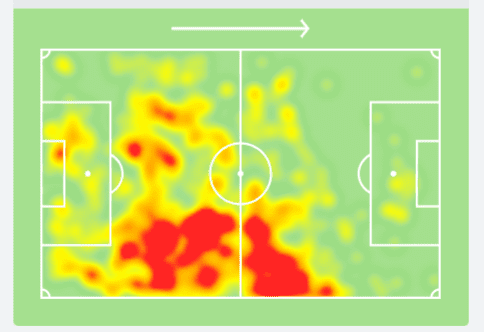 Simakan has demonstrated that the German club constantly produces and develops quality over the past five years. He is an essential part of Leipzig's defence and fits Tedesco's aggressive style of defence wonderfully. Simakan is a center-back who plays quickly and aggressively and excels in man-oriented, aggressive defensive schemes. The French defender is a gamut of an old-school center-half. He is strong, can easily shrug off opposing players, and is quick on his feet. His well-built physique is an aid to him as it takes his defensive skills up a notch. He appears to be of average build, with well-defined upper and lower body muscles. Not a big player by any means, but not a thin one either. He appears to be sporty and fit by nature. At 1.86 m, he may not be the tallest center-half. He is physically strong enough to compete shoulder-to-shoulder with any player. He is also exceptionally quick, keeping up with the swiftest strikers and wingers he has faced thus far. Although he can be a bit slow at the start, when he accelerates to his top speed, he becomes all but unstoppable. He makes good use of his colossal body to shield the ball defensively as well as to break the passing lanes. Currently, he is not a ball-playing center-back yet, but he has the potential to be one in the future if groomed in a suitable environment.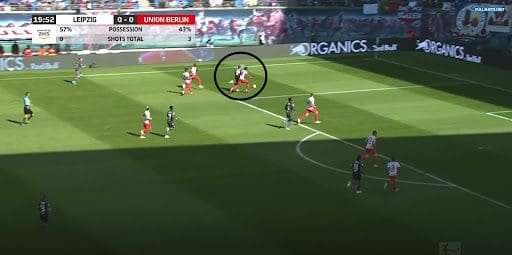 In contact, where he overwhelms opponents with his imposing body, Simakan excels as a defender due to his size and physicality, which are particularly helpful characteristics. In aerial battles, Simakan effectively seals off opponents and attacks the ball by using his physicality. Few players can compete with him in those scenarios since he frequently wins the first ball. A great athlete, Simakan usually has a high jump, which he executes well to win aerial duels.
Another important attribute of his is also one of his weaknesses. Simakan is an aggressive defender when it comes to pressing. At times, he breaks off opponents' counterattacks by intercepting the ball in the middle of the pitch. He does so with sliding tackles, which are rarely smooth, he either fumbles at the second ball or somehow manages to get the ball away from his opponents. Simakan usually plays as the right center-back in Leipzig's 3-5-2 or 3-4-2-1 formation. Needless to say, in these formations, Leipzig do have two holding midfielders in the middle of the pitch, but Simakan grabs any pressing opportunity even if it is not necessary for him to do so. The underlying problem is that, while he comes ahead to tackle the ball or to put pressure on any ongoing defender, he leaves his defence, thus breaking the defensive shape of his team. Simakan is a defender who at times prefers possession over the position. He is still a raw tackler, and when he fails to connect with the ball well, he lags behind in getting into the defensive position. Despite him being fast, he rarely catches up with the players if they are moving into a different area of the pitch. While in possession of the ball, he strikes me as having a somewhat stiff posture. He doesn't employ feints to get the better of his opponent, and changing direction while the ball is moving quickly could lead to him losing possession, which is not ideal. His technical ability with the ball at his feet is very limited. He occasionally reacts slowly to certain situations and becomes a little more reluctant to follow after ball carriers in the latter phases of the game, which are signs of exhaustion.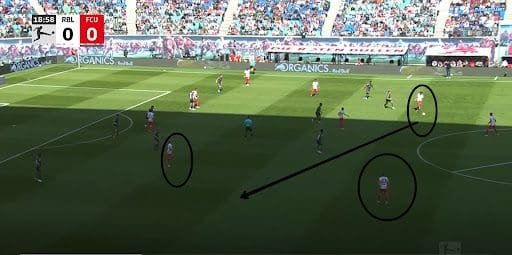 Simakan is a very conservative passer, despite having a vision. He looks confused and at a loss while having the ball when his team is attacking from wide areas. Simakan's major on-ball issues are most likely not related to his physicality, but rather to his lack of innate flare and his restricted repertoire of on-ball techniques. He knows that it can be difficult to push off the ball when in stride, so he seeks to avoid stagnant 1v1 offensive situations and prefers to keep the ball moving. Apart from that, it appears like Simakan rushes his decisions and loses his cool under pressure, leading to subpar, dubious actions or imprecise executions. Simakan is also a textbook passer, and as said earlier, he prefers possession over anything. A lot of his passes are directed to his nearest center-back or to any central midfielder. He has the tendency to play lateral passes on the right side of the pitch. He rarely engages himself in attack with his passes and sometimes fails to read the game well when his team is in the opposition's final third. Mohamed Simakan can be seen wandering in the middle of the pitch and has been caught off guard a few times because of his average tactical and positional awareness.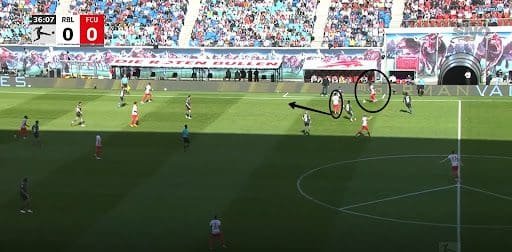 The underlying stats
All stats from FBref.com and compared to other center-backs in the Top 5 Men's Big Leagues + European Competition, and will also be drawn on stats from SofaScore. Unless otherwise noted, all stats are based on per 90 minutes played*
The 22-year-old defender played 28 matches in the Bundesliga last season and was the 7th best-rated player in the Bundesliga. With a rating of 6.94, Simakan was second to only one defender in the list, Gvardiol. Simakan had a pass completion rate of 87%, highlighting his potential to be a good passer of the ball. However, this stat is heavily influenced by his tendency to make possession-based passes. Despite being deployed as the right center-back in the 3-man defence, Simakan does not have impressive stats with respect to his progressive carries and passes. He averages 84.1 touches per game, demonstrating just how important he is to Sporting's possession style. He excels at maintaining control of the ball and creating a tranquil atmosphere in his defence. Simakan enjoys a healthy percentage of 92 successful passes into his own half, this piece of statistics is ably supported by the fact that he has been a very clean passer in his defensive third. He has zero eros leading to a goal or a goal-scoring chance. However, he also has an 82% pass completion rate in the opposition box. Although the France U20 international is not yet regarded as a ball-playing center back, he does not tend to lose his cool when the ball is on his feet. A remarkable statistic, especially for a player so young and impressionable, which suggests that if given the freedom and opportunity inside a progressive system, he is definitely capable of converting that to the major levels in the future. His imposing physique and dominating aerial presence have helped him average around 3 clearances per game.
Simakan won 81 aerial duels in the Bundesliga last season, averaging around 3 aerial duel wins per 90 minutes. His ability to direct the ball properly with his head during aerial duels is one quality that jumps out. His neck strength and body coordination are the key causes of this. Despite not truly having a very high winning rate in this particular area, he can generate a powerful header in the air with good accuracy, which helps his team win second balls and makes him useful in aerial duels. Simakan has averaged only 0.2 accurate crosses per game, an abysmal record. This stat supports the eye test as mentioned before, Simakan is a very conservative passer and tends to shy away from a bit riskier or long passes. His heatmap revealed that he does advance forward but is rarely effective for this reason. The place where he shines is in his central defensive stats. The Frenchman averages around 12.13 pressures per game, an impressive stat that is already supported by the eye test in the previous section. This piece of stats clearly supports the statement of him being an aggressive defender who loves to press a lot. To complement these statistics, he also has an 82% tackling average. As mentioned in the eye test, he often pairs up his pressing with a tackle. However, an 82% success rate in tackles also supports the fact that he is not a very smooth tackler. As discussed before, just like in his aerial duels, Simakan prefers having a second man to get the second ball after his defensive duels, both on and off the ground.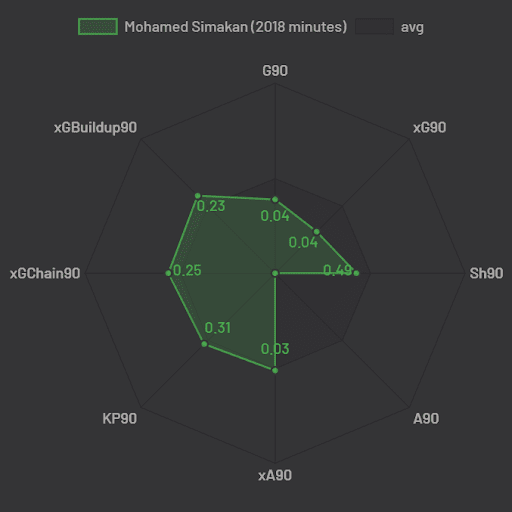 Verdict
There is little doubt that Simakan is an exceptionally gifted young person with the capacity to one day competes at the top level. He's not quite a polished player yet, and if he wants to compete at the highest level, his general technical ability needs to be improved, but he does display exceptional talent and potential. He'll undoubtedly develop into a fantastic player in the future if properly raised. Tottenham did exceptionally well in getting Cristian Romero from Atalanta. The Argentine kept him abreast of the Premier League's playing style and intensity as he was pretty quick in adapting to English football's top flight. As per Spurs' transfer rumours, Antonio Conte is very keen on adding another center-back to his team to band together with his dream defence. In the last season, the most common defence was Ben Davies and Romero on either side of the 3-man defence, with Dier acting as the central defender in the middle. Under the Italian, Davies perhaps played his best football as he constantly engaged himself in bountiful attack, thus slowly becoming a decent ball-playing center-back. With Romero playing some exceptional football on the right side, Conte will perhaps accommodate Simakan in the middle. As mentioned all throughout this detailed scout report, Simakan has good central defensive stats. Style-wise, Conte wants two wide center-backs who can step out of defence with or without the ball, as well as a powerful, aerially dominant center-back who can take control of the defensive line. He fits this bill perfectly well; he's a strong defender, a beast in the air and, moreover, an even better athlete.
If we address the elephant in the room, central defence is not Conte's immediate headache. It is safe to say that Romero has cemented his place on the right side of the defence. However, the left side is yet to be assessed fully. Despite playing his best football, Davies has exceptional returns in his attacking football but his defensive records turned out to be very poor. With the advent of Ivan Perisic, the left side will need little to no assistance from the LCB next season. In this case, Davies will primarily act as the LCB, but his defensive limitations will arrest his overall game. Alessandro Bastoni and former Spurs target Milan Skriniar played similar roles in Conte's Scudetto-winning Inter Milan squad from the previous year. It is a crucial strategy in the Conte system and has been shown to be successful. It is no surprise that the latter two share a much better defensive record than Davies. Along with that, they also possess the necessary ball-playing abilities. Mohamed Simakan will surely be an upgrade over Dier, and I hope Conte will make a beast out of him. His only limitations were his aggressive pressing and lack of ball-playing skills. With a midfield of Bentancur and Hojberg, the presence of the center-back coming off his line to press is rarely needed. Simakan will eventually leave Leipzig, though, since almost every elite club is looking for someone with his combination of athleticism, adaptability, and intelligence. It is Conte's decision to make, depending on his needs, whether he wishes to splurge money on either Bastoni or Skriniar or take a gamble on Paratici's surprise move for Mohamed Simakan.