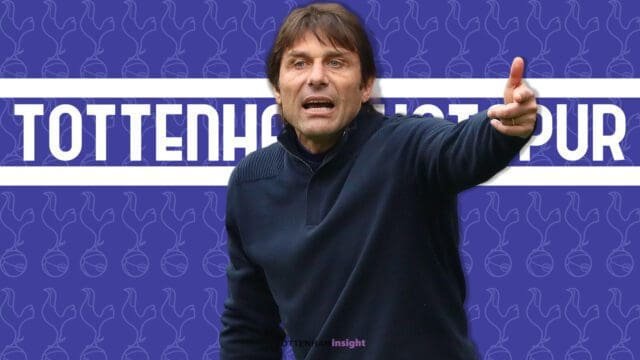 Tottenham Hotspur are walking in wonderland with Ange Postecoglou finally opening those rusted locks to beautiful football. Walking to the stadium at the N17 and breathing the air seems different altogether these days…
But we go back today, to what could have been – one manager that was filled with lot of promise and excitement but never was in Antonio Conte.
Antonio Conte! Ah, an iconic figure in the cosmos of world football. Did you know he has clinched league trophies not just with Juventus but also with the likes of Chelsea and Inter Milan? A bona fide maestro. Moreover, if we wind the clock back, he has worn the illustrious Italian jersey himself twenty times, to be precise.
Flash forward to November 2021, Tottenham— in a bit of a pickle, having just shown the exit door to Nuno Espirito Santo— beckoned Conte. A rocky beginning ensued, but lo and behold, by the season's latter half, Spurs had metamorphosed, thanks to Conte's magic touch.
Now, here's a tad intriguing bit: they finished seventh, a whisper away — a mere two points, if we're nitpicking — from that coveted Champions League spot. And then? A stirring journey to the Carabao Cup semifinals, only to be halted by yup, Chelsea.
On a tangentially related note, isn't it riveting to observe the symbiotic rise of the UK's online casino realm, hand in hand with our ever-increasing digital engagements? Much like the thrill of placing bets online, the Spurs fandom waits with bated breath, hoping Ange's gambles in the transfer milieu manifest a champion troop.
Dive with me into Conte's Tottenham journey.
So, Antonio Conte, steering the Tottenham ship, had a resume that's quite commendable. Picture this: 76 battles on the pitch, and he's emerged victorious in a whopping 40! On the flip side? A mere 23 defeats. Additionally, while he was keeping an eye on things, Spurs danced their way into the semifinals of two cup matches.
Here's when things start to get interesting. A monumental feat in Conte's Tottenham chronicle is the way he's fortified the team's defence. With only 35 goals conceded in the Premier League's previous season, they secured a spot among the elite, boasting the fourth-tightest defence in the league. Impressive, no?
But wait, there's more! Not just content with solidifying the rear guard, Conte infused a newfound attacking verve in Spurs. A total of 63 goals peppered across the Premier League's goalposts last season, making them the sixth most prolific scorers. Quite the turnaround.
Though frustrations of fans owing to his style of play complemented by poor showings he was sacked by Daniel Levy on 26 March 2023, following extensive interviews and research by the executives and Tottenham, Ange Postecoglou was appointed as the men's first team coach at the start of the ongoing season.
Where is Antonio Conte now?
Reports from Sky Sport Italia suggest that Napoli President Aurelio De Laurentiis has officially approached Antonio Conte to discuss the possibility of him replacing Rudi Garcia at Napoli. There is even a chance of an in-person meeting happening soon.
Speculation about Napoli's interest in Conte had been circulating for several days, and Conte himself didn't rule out the possibility when questioned by reporters at a recent event.
Antonio Conte has been available since his departure from Tottenham Hotspur in March 2023 by mutual agreement. His previous coaching role in Italy was with Inter Milan, where he served from 2019 to 2021.
Ange's Adventure
But it never was to be, as we walk now in the Ange's wonderland.
The financial health of Spurs? Robust. This, dear reader, insinuates an enticing prospect: the upcoming transfer window might witness Ange fortifying his ranks even more.
But, ah, the plot thickens. There are mountains to scale. Consider the Premier League — a gladiatorial arena if ever there was one. Studded with the crème de la crème of footballing titans, seizing a trophy here is akin to capturing a mirage.
And then, there's that 15-year itch, a trophy-less span that stretches over a decade! This daunting legacy casts a long, ominous shadow, weaving an aura of unease and trepidation — a formidable psychological maze Ange must navigate if he's to bring home the silverware.
Wrapping Things Up
Ange Postecoglou's entry into Tottenham has revitalized the team's spirit and infused it with a zest that was long missing. His sterling track record paints a promising picture, and given the glimpses of brilliance Tottenham showcased under his guidance, the path ahead seems paved with potential triumphs.
However, the Premier League football scene is as unexpected as it is difficult. The big question remains as he enters deeper into his Tottenham journey, armed with technical understanding and an exceptional talent pool: Can he end the team's 15-year title drought and change the way Spurs are perceived? This season, bathed in anticipation, will provide the answer.