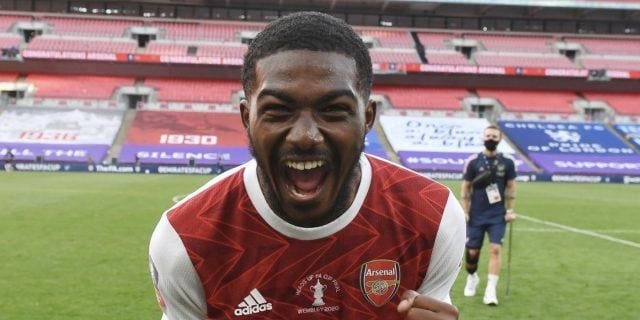 The Sun report that Tottenham are preparing to make a surprise move for Arsenal's versatile player Ainsley Maitland-Niles.
Arsenal are looking to raise some funds through the sale of some of their stars such as Guendouzi, Torreira, Mkhytharian, Elneny, Sokratis and Lacazette, whom have all been reported to have been listed for a transfer move away from the Emirates this summer.
It is understood that the club are being forced to sell the academy graduate against Mikel Arteta's wishes, after finally winning the manager's trust and forcing his way into Arteta's plan.
Considering Maitland-Niles' performances during their FA Cup Semifinal encounter against Manchester City and his display against Chelsea at the final, it's obvious that his performances has definitely improved lately, which earned him a place in the aforementioned important games which Arsenal eventually won in a remarkable fashion.
The versatile midfielder is already attracting interest from West Ham, Brighton, Crystal Palace and Fulham. Arsenal are believed to have placed £30million valuation on Maitland-Niles but a bid closer to £20million might be considered.
Although a move away from the Emirates seem unnecessary and a huge blow, as his versatility has being of help on numerous occasions, which has seen him playing at right back, left back, right wing back, left wing back, as a left or right winger and as a central midfielder.
His intelligence, skills, pace, energy and recovery ability are those strengths that makes him so valuable to the team.
His consistency and improved performances lately are encouraging signs that the 22-yrs-old England international midfielder has gotten huge potentials which could be tapped into and fully maximized as the signs as shown.
Niles had been insistent on his desire to play in the midfield position, to cement a position for himself, rather than being moved across several positions. Meanwhile, the midfield position being eyed by Niles doesn't seem to be lacking at the moment, as the position is being occupied by Xhaka, Smith-Rowe, Torreira, Ozil, Willock, Guendouzi and an imminent on loan return of Dani Ceballos from Real Madrid.
With the assurance of a place in the Spurs' midfield, Maitland-Niles might be tempted to make a switch to the White Hart Lane this summer, as Tottenham's manager Jose Mourinho is looking to assemble a strong team and have enough quality depths across every positions.
Maitland-Niles' potential exit from the Emirates might just be one of the few worse decision Arsenal's hierarchy would possibly commit.