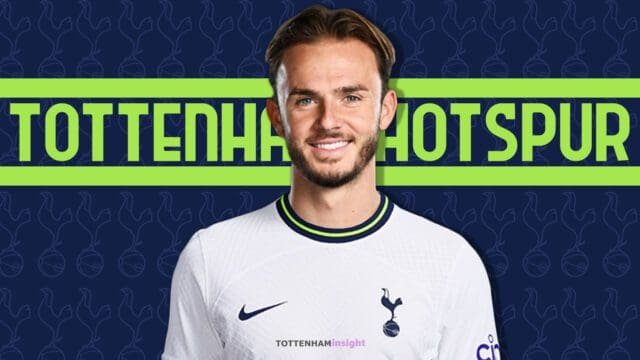 With the summer transfer window looming, rumours regarding the fate of Leicester City's midfielder, James Maddison, are gaining momentum.
Although there have been rumours of Arsenal's interest in the talented English playmaker, Tom Canton of Football.London has proposed that a transfer to Tottenham Hotspur could be a more probable outcome. Canton opines that Maddison could be the newest inclusion to Spurs' squad, citing the club's track record of acquiring gifted players from teams that are facing difficulties.
Throughout the years, Tottenham has garnered a reputation for shrewdly acquiring players from clubs that are grappling with the possibility of relegation. Players like Richarlison, Ryan Sessegnon, Moussa Sissoko, and Fernando Llorente come to mind as individuals who joined Tottenham during a time when their respective teams were situated in the lower half of the table. The Spurs have frequently employed this strategy, reaping favourable outcomes as a result. Numerous players have made noteworthy contributions to the squad.
Ever since his arrival in 2018, James Maddison has been a remarkable performer for Leicester City. At the young age of 24, the midfielder has already made a name for himself as one of the most promising talents in the Premier League. His innate creativity, exceptional vision, and impressive ability to score goals have all contributed to his growing reputation as a standout player. Amidst Leicester's noteworthy campaigns, murmurs have surfaced regarding a plausible departure from the King Power Stadium, with conjecture pointing towards Arsenal as a prospective landing spot.
Although Arsenal has expressed interest in Maddison in the past, Canton opines that Tottenham is a more probable landing spot for the player. The prospect of joining Spurs, with their illustrious history of attacking prowess and promising aspirations in European competitions, may prove to be a captivating proposition for Maddison.
Tom Canton said, "He is a player that in the past Arsenal have previously had interest in. Whether or not they move for him this summer remains to be seen. If I was to predict a move, it feels very Spurs-like to me that James Maddison would move. It feels like a very Spurs-type move to go for Maddison once he is relegated with Leicester."
Although Tottenham appears to be leading the race, they will encounter stiff competition in their pursuit of Maddison's talents. The Premier League's Newcastle United, having secured their status for another season, have been cited as possible suitors. Additionally, the prospect of Arsenal's interest cannot be entirely dismissed. Tottenham's past success in securing similar signings may prove advantageous in their upcoming negotiations, particularly if they are able to swiftly appoint a fresh manager and sporting director.