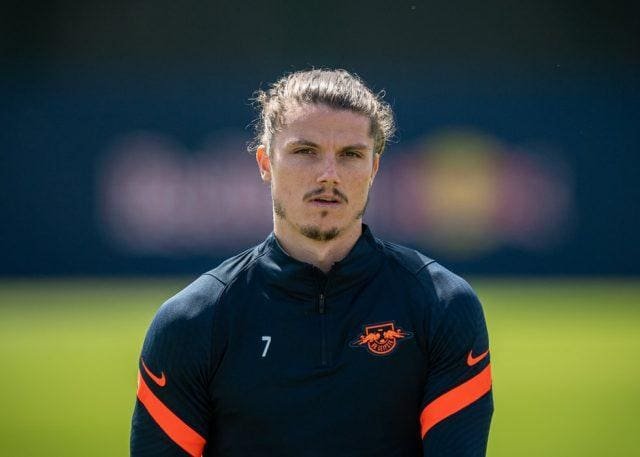 According to reports from SportsBILD, Tottenham Hotspur still retain a key interest in signing RB Leipzig vice-captain Marcel Sabitzer.
Sabitzer had a fantastic 2019-20 season contributing 16 goals and 11 assists as the Bundesliga side raced into the Champions League semi-finals. He also scored two goals against Tottenham Hotspur in the second leg of the Round of 16 tie in March as Leipzig ran out comfortable 4-0 winners on aggregate.
This has led to some serious interest from both North London clubs Arsenal and Tottenham Hotspur and it was reported that both the rivals were monitoring Sabitzer's progress.
The Austrian International's contract at the Red Bull Arena runs until 2022 and should the 26 year-old not extend his stay in Germany Bild has reported a €30m valuation on the attacking midfielder.
Sabitzer could be on the replacement for Dele Alli should the English International depart Tottenham with the Austrian playmaker offering real versatility, having operated in central midfield, attacking midfield and on the right flank.
When questioned about his future and the links to Tottenham in April, Sabitzer admitted he was 'open to anything'.
"Football lives on rumours. And when you deliver good international games, it is normal for something like this to arise and interest to be expressed. But now I only focus on the tasks that come and above all, I want to end the season first, that has top priority. And then let's see how things are. I'm basically open to everything. I have nothing to rule out. We will see."
Fabrizio Romano, Italian transfer guru, has now also given Spurs faithful a glimpse of hope on social media, admitting Marcel Sabitzer being one of the targets ahead of the January transfer window.
.@FabrizioRomano confirms #TottenhamHotspur are interested in signing Marcel Sabitzer. #thfclive pic.twitter.com/b6ofl5AGcS

— THFCReport (@THFCReports) November 15, 2020