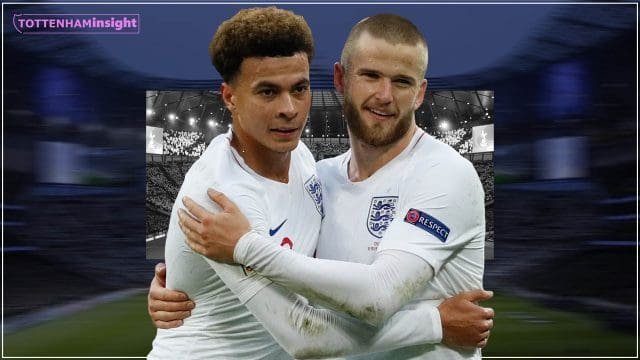 In an exclusive interview with Football. London, Eric Dier, the defensive stalwart of Tottenham Hotspur, poured his heart out about the emotional experience of witnessing Dele Alli's candid revelations.
The former Tottenham prodigy recently bared his soul on The Overlap podcast, bravely discussing his battles with mental health following his departure from Spurs and his time in rehabilitation.
The interview touched the hearts of many as Alli also unveiled the traumatic events of his childhood, which played a pivotal role in shaping the person he is today.
Dele Alli's Rise and Fall – A tragic turn of events
Once, Dele Alli seemed destined to conquer the football world, leaving admirers in awe of his remarkable performances. At such a young age, he seemed to have such a calm head over his shoulders.
During Mauricio Pochettino's tenure at Tottenham, Alli stood as an integral part of the squad, showcasing prodigious talent at a remarkably young age. However, when Jose Mourinho took the reins, a shift in tactics and a lack of synergy saw Alli's star wane.
Cast aside from the plans, it marked the beginning of the end of his time at the N17. Subsequent managerial changes failed to reignite his former brilliance, leading to his eventual transfer to Everton.
Eric Dier's lifeline – A friendship's unyielding support
Throughout Alli's tumultuous journey, a beacon of support emerged in the form of his teammate, Eric Dier. Undoubtedly emotional, Dier revealed that he was deeply moved by Alli's interview.
Their bond was evident as Dier had been with Alli shortly before, even attending his wedding. Expressing his feelings, Eric Dier regretfully acknowledged that he wished he could have done more for his friend during those trying times.
"Obviously, it was difficult to watch. Lots of stuff, not everything, but quite a lot of it I knew already. I was with him just a week before, he was at my wedding. For me it was, as I said, it was difficult to watch, upsetting. I think my overwhelming feeling, which I said to him as well, is probably I'm upset that I didn't do more"
Such friendship and empathy amidst the competitive world of football exemplify the true essence of camaraderie. Dier as a person deserves a lot of credit for helping Alli through his tough times.
A ray of hope for Dele Alli's future
Football fans worldwide share a collective hope for Dele Alli's resurgence. The young and agile attacking midfielder who once enthralled audiences at MK Dons and Tottenham has the backing of supporters who yearn to witness him dominate the football pitch once again.
Despite his on-field criticism, Eric Dier's compassion and unwavering support have earned him respect beyond the game. As Alli bravely discusses mental health issues, he deserves commendation for shedding light on a topic that often remains in the shadows.
With time on his side, a new chapter beckons for Dele Alli, and everyone awaits to see how his story unfolds—with optimism for a brighter future ahead.