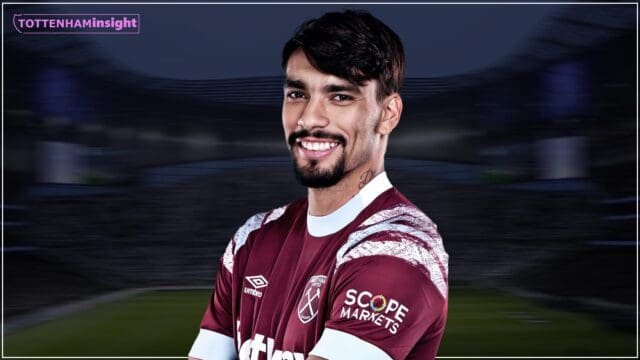 West Ham United manager David Moyes has confirmed that talented Brazilian midfielder Lucas Paqueta will not make it for the Tottenham Hotspur clash.
Tottenham fans were expecting a tricky match against West Ham United and the news that Lucas Paqueta will be missing from the Hammers' midfield will give them a slight advantage. However, Spurs fans are also aware that West Ham is a tough team to beat and the absence of one player does not necessarily mean that the match will be easy.
Paqueta's absence is a blow to West Ham United's midfield. The Brazilian midfielder has been one of the standout players for the Hammers this season, and his performances have helped his team secure important wins.
His creativity and ability to dictate play will be missed by the Hammers, and it is likely that Moyes will have to come up with a new strategy for the Tottenham game.
Moyes speaking about the injury concern said: "Losing Paqueta was a blow but we don't know the answer yet. I don't know, I haven't asked the medical team but obviously, it's a shoulder injury I don't know if he's popped his shoulder or if it's just the way he feels, I've not got the answer to that yet."
Tottenham fans will be hoping that their team can capitalize on Paqueta's absence and secure three points. Spurs have not been in good form recently. Rather, they have been very inconsistent with a sensational win against Man City being followed up by a trashing in the hands of Leicester City.
The Tottenham defence will also be crucial in this match. West Ham has some talented attackers, including Michael Antonio, and it is important that the Spurs defense is solid and compact.
The absence of Paqueta may force Moyes to change his tactics for this match. He may decide to play a more defensive style, looking to hit Tottenham on the counter-attack. This could make the game more difficult for Spurs, as they may find it hard to break down a compact West Ham defence.
David Moyes spoke about West Ham injury concerns in the pre-match press conference addressing not only Paqueta but also the likes of Gianluca Scamacca and Nayef Aguerd – "Paquetá is not going to be available. Nayef has a chance but we're not sure if he's ready or not. It's great that Gianluca is back training, but he's not ready to be selected yet. I might be able to get him involved but minutes will be limited."
Paqueta is a truly special player capable of producing the extraordinary, although he is still finding feet in English football – his absence is definitely a huge boost for Spurs. However, it must not make us complacent since anything other than three points would be a huge blow for us considering our current situation. Let's see how we cope up.