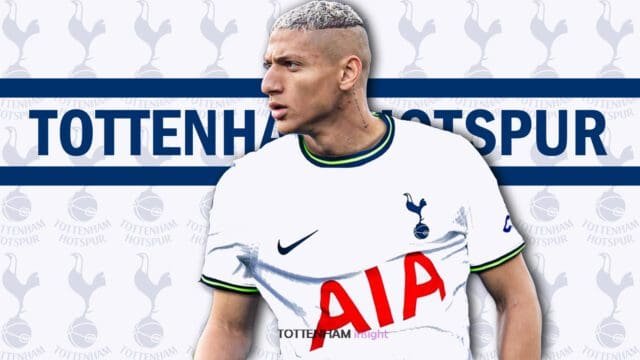 Tottenham Hotspur are a club that has been making waves this summer in the transfer window, as they continue to chase down their targets and gear up for the new season. After signing forward Ivan Perisic and goalkeeper Fraser Forster on free transfers from Inter Milan and Southampton respectively, the Lilywhites are in the market for a few more players, with a defender and another forward targeted.
Spurs manager Antonio Conte and Football Director Fabio Paratici have worked up a list of potential players that will help bolster their squad, and leading the race among them is Everton star Richarlison. The Brazilian forward has been identified by Conte as a suitable player for his system, and he is keen to bring the 25-year-old to North London this summer.
Transfer guru Fabrizio Romano has stated that Richarlison's agents have entered talks with Spurs about a possible move. However, there has been no official contact between Tottenham and Everton, with the Merseyside club reportedly slapping a €70 million price tag on their beloved Brazilian. Furthermore, reports suggest that Tottenham are set to be rivalled by a few other clubs for Richarlison's signature, with London rivals Arsenal and Chelsea and French giants PSG all interested in the forward's services.
"Richarlison is a player that the new agents have talked about with Tottenham, as with other clubs," Romano says as per CaughtOffside. "However, the club wants €70-75million [£64.1million] as an opening price tag, so far it has not received offers at this level. Tottenham are not the only club interested, but Spurs have a real interest in Richarlison."
Richarlison had a very decent 2021/22 season, scoring 10 goals and providing 5 assists as he led the club to survival after a titanic relegation battle with Leeds United and Burnley. With the absence of the main striker Dominic Calvert-Lewin, the Brazilian has had to play as an out-and-out number 9, which is not his preferred position. He has shown his talent and class over the years, first with Watford and now with Everton, where he has spent almost four years now. He has cemented his place as a regular in the starting lineup, and has put up consistent numbers over the past few seasons, finishing in double digits in all competitions in each of his four seasons at Goodison Park.
His style of play and tactical versatility allows him to be a desirable option in Antonio Conte's setup. He will be partnered with Harry Kane and Son Heung-min, while also providing cover for them as a striker. Conte is said to be ready to part ways with former PSV man Steven Bergwijn, and Richarlison would be a very attractive option to replace him.
In his favourite position as a left-winger, Richarlison loves to cut inside from the left flank and the most of his attacking play involves moving infield from a wider starting position, and his attempts to create a goalscoring opportunity for his favoured right foot mean defenders try to stop him on the outside. Since joining Everton he has improved at finding a way back onto his right foot and getting a shot off. Conte could well lineup with Richarlison on the left, Son on the right and Kane through the middle, which could give opposing defences a real headache. The 25-year-old has the ability to link up well with his fellow attackers, as is evident from his time at Everton and his partnership with Calvert-Lewin.
If Spurs manage to land the Brazilian, they could have one of the best-attacking departments in the league next season, with the current crop already consisting of Kane, Son, Dejan Kulusevski- who is on loan from Juventus- and Lucas Moura. The 25-year-old is yet to enter his prime years, and a big move now will undoubtedly help him. Everton could use the transfer funds from the sale of Richarlison to rebuild and help them get out of a potential relegation battle next season. On the other hand, Spurs could greatly benefit from the acquisition of an attacker like Richarlison and could help them challenge for silverware next season.
There could be a huge transfer battle between Chelsea and Tottenham for Richarlison, but any business from the Blues will depend on their ability to move out players like Romelu Lukaku and others. With the Brazilian's preference to stay in the Premier League, Tottenham could well have an easy way to the forward, and if successful, it could be an underrated piece of transfer business this summer.