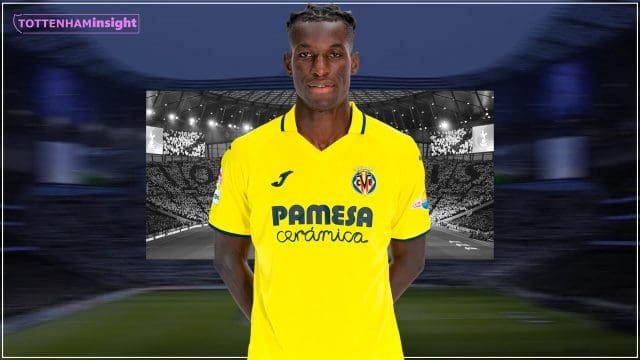 Tottenham Hotspur has reportedly entered the race alongside Chelsea to secure the signature of Villarreal prodigy Nicolas Jackson, according to Fichajes.
The highly sought-after player, who had a remarkable season with the Yellow Submarine, is said to have a release clause of £34 million embedded in his contract at La Ceramica.
At only 22 years of age, the Senegalese international exhibited his exceptional talent by netting 13 goals and providing five assists in 38 appearances across various competitions.
These impressive figures attest to his innate ability to find the back of the net, as well as his mental and physical maturity that surpasses his age, positioning him as a potential regular starter for a prominent European club.
What could this mean for Tottenham? With his release clause being a reasonable sum, one can anticipate that Jackson's value will remain high even if he experiences an average spell at N17.
Thus, acquiring him represents a low-risk investment and an ideal opportunity to reinforce our frontline. Although Jackson may comprehend that immediate regular starting chances could be limited at Chelsea or Tottenham, he would offer top-quality competition and emerge as a future successor to the esteemed Harry Kane and Son Heung-min.
However, the situation at Chelsea might sway Jackson's decision, as the Blues are actively seeking a new No. 9. With the unsuccessful experiment involving Romelu Lukaku and Pierre-Emerick Aubameyang's underwhelming performance since his transfer from Barcelona, a move to Stamford Bridge becomes an even more enticing prospect.
The added allure of working under the esteemed Mauricio Pochettino, a manager renowned for nurturing young talents and transforming them into world-class players, could make Chelsea the preferred destination for Jackson.
However, Tottenham have also signed Ange Postecoglou and the Australian tactician is known for his nature to develop young players and make them key cogs in his team. Jackson could be tempted by this prospect as well.
If the current situation had to be taken into account, Chelsea might be the better bet for the Villarreal man than Tottenham are. However, the Lilywhites must look at a way to convince him to join the N17 as a player of his talent doesn't come around often.