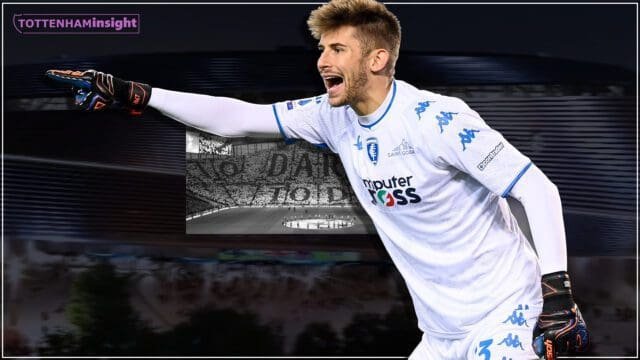 Tottenham Hotspur have identified Empoli goalie Guglielmo Vicario as a potential replacement for Hugo Lloris next season.
Spurs' interest in Empoli goalkeeper Guglielmo Vicario comes as no surprise to fans and pundits alike. With veteran goalkeeper Hugo Lloris struggling with his form this season and tipped to leave at the end of the season, Tottenham's search for a replacement has been well-documented.
The arrival of Antonio Conte as manager has added a new dimension to this search, as the Italian is known for his meticulous approach to team building and a strong preference for Italian players.
While Vicario might not be the most high-profile name on Conte's shortlist, he has certainly caught the eye with his performances in Serie A this season. The 26-year-old has been one of the standout performers for Empoli, who are currently in the top half of the table
His agility, shot-stopping ability and excellent distribution have made him one of the most highly rated keepers in the league. Tottenham's interest in Vicario is not without competition, however. Juventus and Roma are also said to be keen on the Italian, and it remains to be seen whether Tottenham can convince him to make the move to the Premier League.
If Tottenham does manage to sign Vicario, they will be getting a goalkeeper with plenty of potentials. He has shown this season that he is more than capable of holding his own in one of Europe's top leagues, and at 26 he still has plenty of room for improvement.
He is also versatile, having played in a back three as well as a back four, which could be a useful asset for Tottenham as they look to build a more solid defensive unit. There are also question marks over whether Empoli will be willing to sell their star player, especially given that he only joined the club last summer.
Of course, signing Vicario is not without risks. He is relatively untested at the highest level, and there is always a chance that he could struggle to adapt to the intensity and physicality of the Premier League. However, this is a risk that Tottenham may have to take if they are to find a viable long-term replacement for Lloris.
There are still a lot of moving parts in this transfer story, and a lot could change between now and the end of the season. However, one thing is clear: Tottenham need to find a new goalkeeper, and they need to do it soon. If they are to challenge for the top four next season, they cannot afford to have a repeat of this season's goalkeeping woes. Vicario could be the solution they are looking for, but only time will tell.
MUST WATCH: Guglielmo Vicario is SO UNDERRATED Goalkeeper!