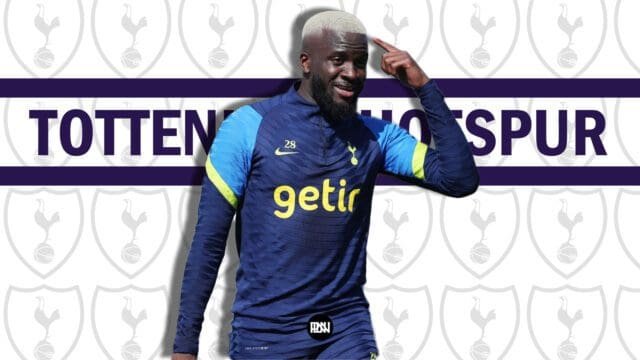 Tanguy Ndombele; A chance creator, a robust defender, an all-action box-to-box midfielder.
Tanguy Ndombele was a genius signing by Tottenham Hotspur in 2019 because of his profile and what he could add to this budding Spurs side. Christian Eriksen always wanted to leave eventually, and signing a replacement early on was a clever idea. However, it feels like one is yet to churn out the actual potential out of the 24-year-old because he has the capabilities of being one of the best box-to-box midfielders in the Premier League.
Mauricio Pochettino's sacking in November 2019 derailed any and all plans the Frenchman had of featuring in an exciting English side. However, to everybody's surprise, Mourinho also favoured him. Not in the beginning, but last season Spurs played some of the best attacking football, thanks to Harry Kane, Heung-Min Son, and Tanguy Ndombele. However, like all teams of the Portuguese manager, this too dithered in all areas of the game eventually. Nuno Espirito Santo lacks the guile and intelligence to bring the best out of a player like Ndombele, courtesy of which the Frenchman also handed in a transfer request this summer. Lack of suitors kept him put at the club, and now the 24-year-old and Spurs' newly appointed manager are in a bad marriage.
Thus, let us see 2 roles Ndombele can feature in this lacklustre counter-attacking system of the former Wolves boss.
A) A midfield operator:
Pierre Emile Hojbjerg was quite possibly the best signing in the Premier League last season because he added something to Spurs they lacked in the beginning– a player who was ready to do the dirty work in the center of the pitch, but also tactfully at the same time. However, there are flaws to his game. He is not the best long-range passer and lacks the understanding of quick passes in tight spaces. Although one person that does excel at those things is Tanguy Ndombele.
So taking into account the statistics of last season (as per FBref), which numbers were up for the Frenchman and which are the ones that can be improved upon if he is turned into a midfield operator.
Out of all the players in Spurs' current squad, there is nobody who keeps the ball at his feet better than Ndombele. He has the confidence to play close to the touchline, in tight spaces, and just shimmy past defenders without any extraordinary tricks. Thus, it is no surprise that he was in the 93rd percentile of midfielders with the most progressive carries. A key quality in any midfield operator is to carry the ball vertically rather than horizontally or just backward.
Andres Iniesta rarely carried the ball into his own half or horizontally, and if he ever did, it was a tactic to create space. This is, of course, not a comparison, just an example of how one of the best midfield operators in football history operated.
Playing in a 3-man midfield alongside Oliver Skipp and Pierre Emile Hojbjerg will certainly bring out qualities from Ndombele that have been lacking so far. Currently, the Frenchman is always hesitant to play a pass in a dangerous area or basically dribble past defenders in tight spaces. This is because there is no guarantee on who will track back to stop the counter-attack. However, with Skipp and Hojbjerg, Spurs have two players who do not mind sitting back and protecting the defence. If the one midfielder that does not know how to play through a press is restricted in his style, it would almost contradict fielding him on the pitch. Thus, carrying the ball, especially out of a press, is a key quality, and the 24-year-old can do so if he is guaranteed the protection he deserves in return.
But there are several other facets of his game that he has suffered in but could be opened up with two holding midfielders.
For example, Ndombele ranked in the 70th percentile of progressive passes. This number can increase highly if he is given a license to push ahead. If the Frenchman is provided with a chance to feature more in the attacking third of the pitch, he would be forced to look for passes, and creativity is something that comes naturally to him. Although Kane, Son, Lo Celso, Bryan Gil, Lucas Moura, and Steven Bergwijn are formidable players, Ndombele is certainly somebody who understands when to play a pass and the proper weight on a pass. He is also somebody who can create when on the run and does not need to look up constantly to create chances and provide the most predictable pass.
Progressive passes, more often than not, include medium passes and short passes, regardless of the area one occupies. Last season, Ndombele averaged an 85% completion rate for medium passes. These are passes in a range of 15 to 30 yards. More often than not, Ndombele would play behind Son and Kane and put balls over the top or connect a set of passes together to form a triangle. Because Harry Kane makes an excellent focal point and Son is a tireless runner, it gives Ndombele the incentive to play off or play to either of them constantly.
Thus, the French international can certainly act as a midfield operator if Nuno does wish to play him in that manner.
B) The sitting midfielder:
Ndombele's creative juices are certainly a joy to watch, but the Frenchman's ability to dribble past defenders can be used differently.
For example – Ruben Loftus Cheek now acts as a defensive midfielder under Thomas Tuchel because of his ability to go past players and defend at the same time due to his agility and ability to win aerial duels.
Thus, quite similar to the Englishman, Ndombele could turn into a sitting midfielder, who beats the press and feeds the ball into the attacking players. This, in turn, would allow Nuno to play Giovani Lo Celso right behind Harry Kane while the two wingers can stay far out and stretch the pitch.
The French international has a lot of agility, but he can also put it to use in a defensive way. Currently, he only applies his athleticism to move forward. However, if he does step back and puts in the same efforts in intercepting the passes and cutting out the passing lanes, it could be a fruitful solution for everybody concerned.
As per FBref, Ndombele achieved a successful pressure percentage of 33% last season. (Successful pressure percentage indicates the percentage of time the team gained possession within five seconds of applying pressure). Regardless of the area the 24-year-old was operating in last season, these are good numbers. As a sitting midfielder, he could certainly pressure the opposition into conceding the ball, while he could also orchestrate a press. This would imply that the press begins from the front and the rest of the team follow the cue and box the opposition into conceding possession. Hounding down the opposition is always a good quality and Ndombele excelled in this area last season.
Passing out from the back is also a crucial element– something that was prominently seen in the likes of Jorginho, Ruben Neves, Fabinho, and Rodri last season, while Marcelo Brozovic also excelled at it during Inter Milan's Serie A winning run. Although Ndombele suffered in comparison to all of these players in terms of short and medium passing, his ability to distribute the ball and recycle it was impressive. The Frenchman achieved a 74% successful pass percentage in terms of long-range passes (passes longer than 30 yards). If Tottenham are to play on the counter-attack, they will need somebody who can release the ball to the likes of Harry Kane or Steven Bergwijn or Lucas Moura or Heung-Min Son. Long-range passing can be used to unlock teams that have a high line, and Ndombele could be a huge asset due to his ability to find a pass over 30 yards.
Although an area he will have to improve in or is yet to prove himself is the number of passes. Most central midfielders make around 300 passes per game, especially the top ones. However, Ndombele is currently only hitting the 180 mark. While that may number may automatically change once he is playing in a deeper role, he will need to maintain the passing accuracy levels and avoid having too many touches of the ball. Instead of keeping the ball to himself, Ndombele can act like a Gini Wijnaldum or a Mateo Kovacic, who pick the ball up deep and beats the press. This will need a lot of discipline at the end of the day, and he will certainly have to develop that.
DENOUEMENT
Therefore, these are two roles Ndombele could certainly feature in. There is yet to churn a lot out of the Frenchman while he is yet to show if he possesses the defensive tenacity that every Premier League player needs. He has an incredible skill-set that will make him a potent midfielder in a lot of ways but given Nuno's restrictive methods and conservative way of playing the game, these roles might not only benefit the player but also the team as a whole. He could also feature as an out-and-out attacking midfielder, but that would certainly decrease the quality in central midfield.
A highly talented player and possibly one with the highest potential at the club, Tanguy Ndombele needs to put his head down and focus if Spurs are to finish in a reasonable position on the table because they are certainly not going to get there unless their best players step up for them.