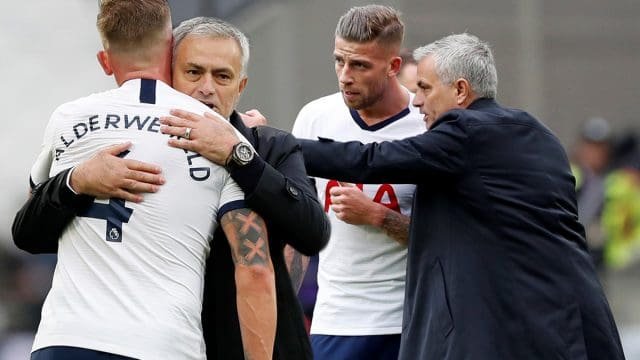 If the rumours are to be believed, there is a certain rift at Tottenham currently between Jose Mourinho and Belgian center-half Toby Alderweireld.
Are there any surprises? No. Is this something new with Jose Mourinho? No. Is Alderweireld the player everybody was expecting it to be? No.
Jose Mourinho, for far too long, has had a history of having broken relationships and disputes among the senior or star players at the club. The Portuguese had issues with Ramos and Casillas at Madrid, with Hazard at Chelsea, with Pogba, Lukaku, and Sanchez at Manchester United and made Dele Alli his foe early days into Tottenham. Albeit the reasons for everybody were more or less along the same lines.
'Not working hard enough in training and not following the tactics'. It must, however, be said that the players who flourished and are currently flourishing under Mourinho love him to the moon and respect him as a father figure. Cristiano Ronaldo, Frank Lampard, Didier Drogba, John Terry, Cesc Fabregas, Diego Costa, Marcus Rashford, and now Harry Kane, all owe Mourinho for the players they were and are today.
This is why it is confusing as to why Toby Alderweireld has been sidelined by Mourinho. The Belgian, like many players at Tottenham, was jubilant when Mourinho signed for the club and was ecstatic when asked about how it was to play under the Portuguese after a couple of months in charge of Tottenham.
"For me, Jose Mourinho is an unbelievable people manager, someone who you want to travel eight hours by road to play on a Sunday after your son is born," The Belgian said. "That's the feeling you get, the feeling I have for him. You don't want to disappoint him."
Yet, their relationship has turned sour in recent months and the signs were at the end of last season itself as Alderweireld found himself benched for the first 3 games once football had restarted in the UK. However, Mourinho then brought the Belgian back into the side and a world of good that did Tottenham as Alderweireld scored the winner in the North London derby with his towering header.
The new season started with Alderweireld in the XI against Everton but a 0-1 loss led to the Belgian being dropped for three consecutive games after that. However, post that, Alderweireld started to feature in the Portuguese's team sheet for two months in a row in the Premier League. Tottenham topped the table in this period and things were only looking upward for the North London side.
However, as the pattern went, Tottenham lost to Leicester by a single goal and Alderweireld was on the bench yet again after that. Since the turn of the year, Alderweireld has often found him out of the traveling squad or on the bench and it must be frustrating for the Belgian.
But this is not the first time Alderweireld has been dropped by a manager as Pochettino benched the defender for the last month or so of his managerial reign as he did not appreciate the way Alderweireld was playing. Pochettino preferred playing out of the back but Alderweireld kept plunging long balls onto the chest of Harry Kane and the other forwards.
Jose Mourinho has however had something more different to say about the Belgian in the past week when he dropped both Alderweireld and Serge Aurier for the weekend game as both returned after playing all 3 games for their respective countries in their world cup qualifiers.
"They came to training just yesterday [Saturday]," he said. "They were fit, yeah, but they report for training only yesterday and they went for their national teams and they didn't make the Covid tests on time to be in the training session on Thursday, not even on Friday, they come only yesterday, but did we lose matches with them or with them we were a perfect team defensively?"
Mourinho appeared miffed when he was asked whether the Belgian would have been involved in training had he come back sooner. "Maybe, but I'm not saying yes and I feel a bit strange the previous question and your question because what are you trying to say? That Davinson Sanchez and Rodon they were very bad?
"If you want to say that then you say that but I'm not going to say that. If you want to say that Serge and Toby every time they played they were phenomenal if you want to say then you say but don't put me with questions that you want an answer to but I don't have an answer to give or at least the answer you want."
There certainly are various reasons why Mourinho is unhappy with the center-back but the Portuguese is not too keen to address it in public either.
Mourinho did however go on to say: "I don't want to say indiscipline. I don't want to say discipline. I don't want to say that. This is what it is. The players that landed in London on Wednesday after internationals and the ones that played in London as in the case of the English boys, they had the tests and they could immediately be in training on Thursday and so Thursday, Friday and Saturday and they couldn't. They appeared only yesterday."
It is a huge possibility that Alderweireld might consider a move away this summer if Mourinho continues treating the Belgian this way, however, it would be tough to attract suitors as Alderweireld penned his future with the club last year, until June 2023.
Tottenham are now 3 points within 4th placed West Ham United as they lost a crucial opportunity of leap-frogging Chelsea on the weekend as they drew away at Newcastle.
Next up, Tottenham have a huge game against Manchester United which will be followed by Everton the weekend after that. These are crucial games and if Mourinho wants his defence to be resolute again, he might think about bringing Toby Alderweireld back into the lineup, somebody who has arguably been Spurs' best center-back in the past 5-6 years.