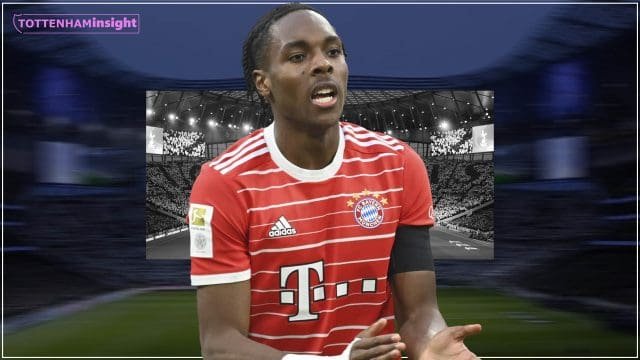 Tottenham Hotspur and Bayern Munich are on the cusp of a groundbreaking swap deal, as reports from The Guardian reveal. The German giants' interest in Harry Kane has prompted the Lilywhites to look at young French striker Mathys Tel.
Bayern have been at Tottenham's door banging and trying to sign Harry Kane all summer. The German giants have identified the Englishman as their marquee signing this summer.
Despite encountering steadfast resistance from Tottenham chairman Daniel Levy, Bayern Munich refuse to relinquish their pursuit of the English prodigy.
Unwavering Determination: Bayern's tenacious bid for Harry Kane
In Bayern's eyes, Harry Kane is the ultimate marquee signing, the missing piece that could elevate their squad to unparalleled heights. Ever since the exit of Lewandowski, they have been lacking a proper number nine.
Bayern's top brass, including Chief Executive Jan-Christian Dreesen and Technical Director Marco Neppe, were prepared to jet off to London for crucial negotiations. However, their flight seemed to have been cancelled.
Tottenham's dilemma: The quest for Harry Kane's successor
Complicating matters, Tottenham Hotspur finds themselves at a crossroads. While Kane's heart seems set on exploring new horizons, the club is unwilling to abandon their efforts to retain him.
But the question arises: Can anyone truly replace a football virtuoso like Harry Kane? As whispers of Mathys Tel's potential arrival surface, Tottenham must tread carefully.
Although the French prodigy exhibits undeniable talent, he may not quite measure up to Kane's unmatched prowess. Thomas Tuchel's declaration of Tel's importance in his plans adds intrigue to the situation, but the final outcome hinges on Kane's decision.
The outcome remains uncertain, with Kane's destiny hanging in the balance. While Bavarian zeal for the English superstar refuses to wane, Tottenham must confront the daunting task of finding a worthy successor.
Should Kane's departure become a reality, they know that a player of Tel's caliber may not suffice. So, where will Tottenham turn if their talisman does leave the club? Only time will answer this question.