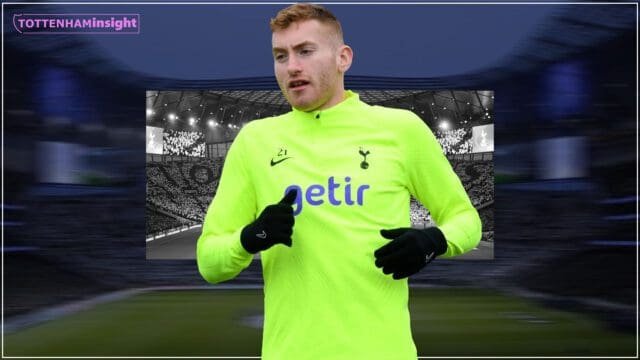 As per recent reports, Tottenham Hotspur are set to sign Dejan Kulusevski on a permanent deal after his loan spell is set to expire at the end of June. The Swedish playmaker arrived at Spurs in the winter window of 2022. The club had the option to purchase him in the summer of 2022 but opted not to, instead extending his loan deal till the end of the season. Now, after playing 61% of available minutes in the league, he is set to become a Tottenham player permanently for a fee in the region of £26 million.
How did Dejan Kulusevski fare on loan?
Dejan Kulusevski has been at Tottenham at arguably the worst possible time. With constant changing of managers, an underperforming team, and a set of impatient fans, it would be easy for any player to attribute their lack of success to these factors. Kulusevski, however, has made the best out of a bad situation.
In terms of raw numbers, he contributed two goals and seven assists in the league this season while playing 2,078 minutes. However, his value can be seen from the fact that he has consistently been preferred over £60 million signing Richarlison. The Brazilian played just 29% of all minutes in the Premier League.
Harry Kane and Heung-min Son are the untouchables in attack and Kulusevski's playing style complements them perfectly.
With his left-footedness, he adds a unique angle to Tottenham's attack. Son, Kane, and Richarlison are all right-footed and often end up in similar areas during the attacking phase.
Moreover, with 1.71 tackles/90, he is an adept attacker who likes to defend from the front and lead the press.
Furthermore, with Harry Kane's future in question, Spurs need to get all the attacking reinforcements they can. In that sense, signing a PL-proven player for just £26 million, who also knows the ins and outs of the club is a no-brainer.
What should Spurs fans expect from Kulusevski?
Despite giving flashes of form during his loan spell, his availability has been in question. He missed 10 games this season with a thigh injury and looked rusty for a while after coming back. Richarlison even took his place in the attack.
Furthermore, often his silky dribbles and feints have led to him ending up in a cul-de-sac. A player of his ability and technical proficiency has the potential to hit double figures in goals and assists every season. Too often, his style of play can swing between two frustrating extremes.
If he is not trying Hollywood passes to concede possession, he is playing simple passes that never progress the play.
Tottenham fans will expect that the new manager, whoever he is, comes in and works to unlock Dejan Kulusevski's vast potential, as the now-Chelsea manager Mauricio Pochettino once did with Dele Alli, Harry Kane, and Co.
With some clarity of role- Kulusevski played as a right-winger, attacking midfielder, striker, and right-midfielder this season- in a settled team, Kulusevski has the kind of potential that can make this fee look like the steal of the transfer window.