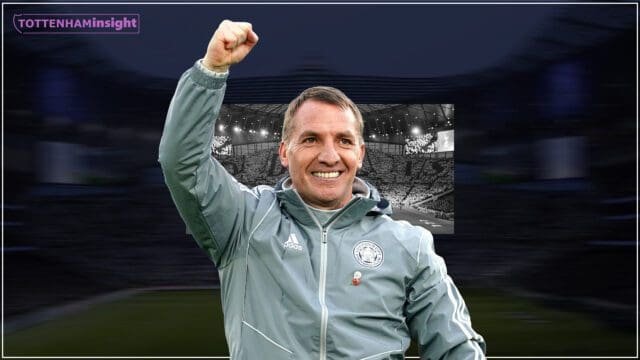 Tottenham Hotspur's search for a new gaffer has hit a stumbling block with Feyenoord boss Arne Slot confirming his intention to stay with the Eredivisie champions.
As a result, Spurs chairman Daniel Levy and the club's hierarchy are exploring alternative candidates, and one name that has emerged is Brendan Rodgers, who is currently without a club after his departure from Leicester City. The odds are set and you can bet on Liverpool's hero's possibility to join Tottenham.
Spurs' Setback and Consideration of Brendan Rodgers:
Tottenham have been compelled to seek alternative options for their managerial vacancy due to Arne Slot's commitment to Feyenoord.
As per reports, Brendan Rodgers has been deliberated upon by the decision-makers of the club as one of the potential candidates.
According to reports, Rodgers, who declined Tottenham's offer in 2021, is said to be "exceptionally enthusiastic" about the position following leaving Leicester City. The recent development can be perceived as a fortuitous occurrence, given that Rodgers has been deemed a highly suitable candidate for the team by Clive Allen, a revered figure in Tottenham's history.
Rodgers' Experience & Record:
Although Slot's remarkable accomplishments with Feyenoord have captured the spotlight, Brendan Rodgers brings a wealth of expertise and a well-established history of success.
Having previously held managerial positions at Swansea City, Liverpool, and Leicester City, Rodgers has demonstrated his adeptness at coaching in the Premier League.
In 2021, he emerged victorious in the FA Cup with Leicester, a remarkable achievement that added to his already impressive track record. His tenure at Celtic was marked by an unbeaten domestic campaign, a feat that earned him seven domestic honours in less than three seasons.
Fit for the Tottenham Way?
Darren Anderton, a revered figure at Tottenham, has opined that Brendan Rodgers' tactical approach, which frequently employs a 4-2-3-1 setup, is consistent with the esteemed "Tottenham way."
The allure of his footballing style, combined with his prior involvement in British football, renders him a highly attractive candidate in the eyes of Daniel Levy and the club's upper echelon. Rodgers' previous tenures at Swansea City and Liverpool were a testament to his prowess in executing a captivating and offensive brand of football, which perfectly resonates with Tottenham's philosophy.
Speaking exclusively to Express Sport, Anderton backed Rodgers for the hot seat because his style of play is the 'Tottenham way.'
He said: "I like Brendan Rodgers. When he's given top, top players… I mean, what he did at Liverpool, he was so unlucky not to win the Premier League there.
"He plays a brand of football that Tottenham fans want to see. I think that's fair to say. Since Pochettino, with Mourinho and Conte, the football has been dour at times. We've got some wonderful footballers, but two very defensive managers that have certainly made for some very dull afternoons at White Hart Lane. So I think that comes into it.
"I feel like he plays a brand of football that is the Tottenham way, and I think that would work."
Denouncement:
Spurs' managerial search has shifted gears following Arne Slot's decision to remain with Feyenoord.
Though interest in Slot's possible appointment has faded, Brendan Rodgers has emerged as a formidable alternative. Rodgers is a good fit for Tottenham because of his experience, winning record, and similar playing style.
Spurs may find the stability and competitive edge they seek in Rodgers, who has won titles at both the domestic and European levels.
The club is still looking for a new manager, but Brendan Rodgers could be the right choice to help them achieve their long-term goals.