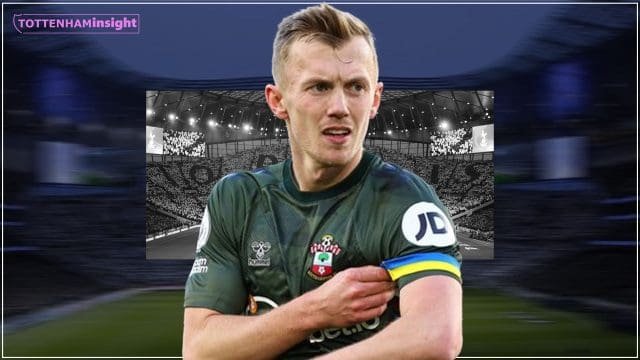 According to The Daily Mail, Tottenham Hotspur remains captivated by the exceptional skills of Southampton's star player, James Ward-Prowse.
Having recently made a resounding statement with the acquisition of James Maddison from Leicester City, the North London club's ambitions extend beyond that triumph, as they seek to fortify their midfield even further.
Ward-Prowse's remarkable abilities have not gone unnoticed by various clubs, with Tottenham being one of the suitors vying for his signature. West Ham and Fulham are in the race to secure his services.
James Ward-Prowse's Exceptional Skills and Dead Ball Mastery
Ward-Prowse is widely regarded as one of the Premier League's premier number 8s. His ability from dead ball situations is a sight to behold and there are not many players who come close to him in this regard.
With an impressive record of 17 direct free-kick goals in his Premier League career, he stands only one goal away from matching the legendary David Beckham. Ward-Prowse's dead-ball precision and long-range shooting prowess make him an invaluable asset.
Tottenham have already made a significant addition to their squad this summer by securing the talents of James Maddison for a reported fee of £40 million. Maddison, known for his attacking flair during his tenure at Leicester City, could potentially be deployed as a number 8.
Integrating Ward-Prowse & Maddison into Tottenham's Squad
If Tottenham were to pursue the signing of Ward-Prowse, intriguing questions arise about how both these players could seamlessly integrate into the team. Undoubtedly, Tottenham's midfield options would receive a substantial boost.
However, the ultimate decision lies with James Ward-Prowse himself. If he seeks regular playing time, the allure of West Ham or Aston Villa, who can offer more guaranteed minutes on the pitch, may be enticing to him.
The Postecoglou revival
Embed from Getty Images Under the leadership of manager Ange Postecoglou, Tottenham are undergoing a transformative summer rebuild. The notable acquisitions of James Maddison and Guglielmo Vicario have already demonstrated their intent to establish a formidable squad.
However, the Australian is still not done. He is keen on making the strong as squad as possible with the transfer budget he has and signing Ward-Prowse would mean that the midfield is well taken care of.
Securing the services of James Ward-Prowse would be an absolute coup, although the path to his signature is not without its challenges. If he wants to come here, there is no reason why must not go all out to sign him.