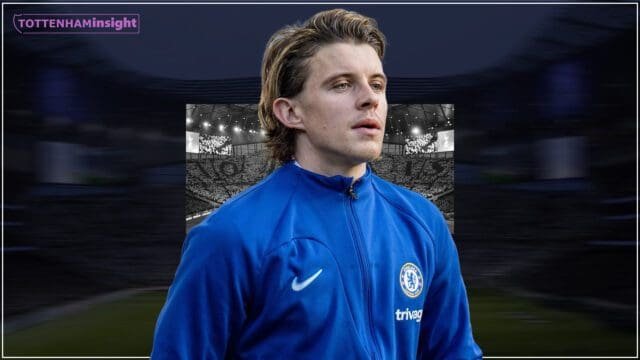 Tottenham Hotspur has unexpectedly emerged as a strong contender in the pursuit of Chelsea's highly regarded midfielder, Conor Gallagher, as reported by Football London.
Gallagher, a remarkable young talent within the Chelsea ranks, made a name for himself during an outstanding loan spell at Crystal Palace throughout the 2021/2022 season. Displaying his exceptional skills, he impressively contributed eight goals and five assists in 39 appearances for The Eagles.
Carrying his exceptional form into the past season, Gallagher stood out as one of the few shining lights amid a lackluster campaign for Chelsea. With consistent performances on the pitch, he has captured the attention of several clubs.
Gallagher did get his fair bit of criticism last season but he certainly could hold his head high, a thing that not many other Chelsea players would have been able to do after last season.
While rumors suggested that Newcastle United was keen on securing Gallagher's services, a captivating twist has occurred with Tottenham expressing their strong interest in the gifted midfielder.
The North London club, undergoing their own summer reconstruction, have identified Conor Gallagher as one of their primary targets for the upcoming transfer window—an understandable move given their dire need for midfield reinforcement.
Despite having only 45 first-team appearances for Chelsea, Gallagher's youthful vigor and relentless desire to prove himself align perfectly with Postecoglou's vision of nurturing and enhancing young talents.
Tottenham's midfield has been very functional in recent seasons and if there is one thing that we know, there is absolutely no chance that Ange Postecoglou agrees to work with such a midfield.
Chelsea's recent ownership change, with the arrival of Todd Boehly, has coincided with significant investments in the squad over the past couple of years. As a result, competition for places has intensified, thereby limiting Gallagher's chances of regular playing time.
Under the guidance of Ange Postecoglou, renowned for his ability to foster young talents during his successful tenure at Celtic, the 23-year-old Gallagher could flourish and make remarkable strides in his career.
We cannot stop with signing just Gallagher. Our midfield is crying out for so much creativity and it makes sense that we are being linked with names like James Maddison in the recent weeks.
As time unfolds, the outcome of Tottenham's pursuit of Gallagher will be revealed. A potential signing of this caliber would undeniably be a tremendous addition to the club's roster, and it remains to be seen how this exciting prospect will develop.