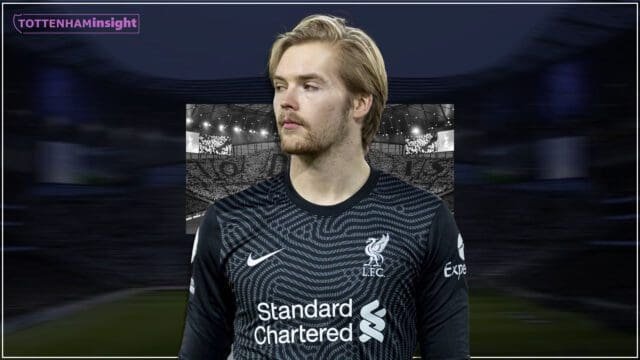 As per recent reports, Tottenham Hotspur are reportedly monitoring Liverpool's custodian Caoimhin Kelleher with the possibility of a transfer in the upcoming summer window.
Kelleher, a Liverpool academy alumnus, has progressed through the hierarchy and solidified his position as the backup custodian for Jurgen Klopp, trailing only Alisson Becker. Nonetheless, his involvement in the Premier League has been restricted this season, with his appearances primarily confined to cup competitions.
Reportedly during the month of December, Kelleher conveyed his aspiration for consistent participation in matches and implied the possibility of exploring alternative opportunities upon the conclusion of the season.
Although Klopp has publicly expressed his belief that the 24-year-old will not depart during the upcoming transfer window, Kelleher's circumstances have garnered attention from various premier league teams in Spurs, Brentford, and Brighton.
According to a report by Football Insider, Liverpool are reportedly anticipating proposals for Kelleher, but are resolute in their decision not to release him for a reduced price.
Kelleher may endeavour to pursue a transfer in order to secure a starting position at a different club.
Tottenham are actively seeking a replacement custodian, as it is anticipated that Hugo Lloris will vacate his position subsequent to the conclusion of the present season. Although Kelleher's exposure to the Premier League is restricted, his potential as a viable acquisition for Tottenham's enduring prospects is noteworthy.
Kelleher's displays for Liverpool have been noteworthy, having achieved ten instances of preventing the opposition from scoring in 20 senior matches, and a success rate of 75% in the 2021/22 season – he has managed to make six saves out of eight shots on target.
Caoimhin Kelleher has also been praised as a heroic figure during penalty shootouts. Moreover, it is noteworthy that Kelleher is represented by the same agency, CAA Stellar, as Fraser Forster and Ben Davies, which could potentially provide Tottenham with a favourable position during negotiations.
With the summer transfer window looming, the prospective transfer of Caoimhin Kelleher to Hotspur Way is a noteworthy development that warrants close attention.
The promising Irish goalkeeper's aptitude and potential, in conjunction with his aspiration for consistent game time, render him a desirable candidate for teams in search of a dependable goalkeeper for the long-term.