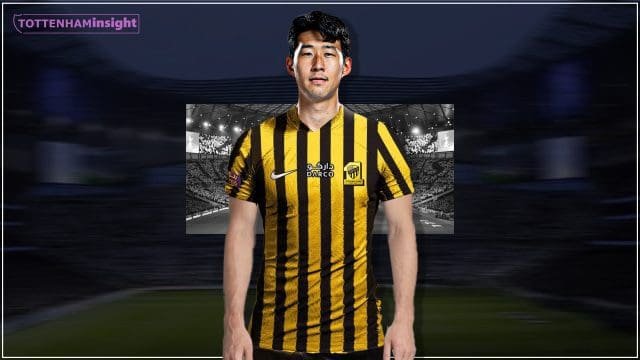 According to ESPN, the Saudi wave has not left Tottenham Hotspur alone either with Al Ittihad set to make a sensational offer for Son Heung-min.
The North London club are bracing themselves for a substantial €60 million bid from Saudi Arabian team. Not only does the offer come with a hefty price tag, but there are also rumors of an enticing four-year contract awaiting Son, promising a staggering €30 million per season.
Despite having two years left on his current contract, Son has established himself as an integral part of the Tottenham squad, and the club is in no rush to bid him farewell.
Under the guidance of new manager Ange Postecoglou, Son is expected to play a pivotal role in the team's future plans. The Australian tactician undoubtedly recognizes the dynamic forward as a crucial piece of the puzzle.
Son, along with Kane have been the faces of Tottenham in recent seasons. Despite a poor season by his own lofty standards, the South Korean is nowhere close to being done at the top level.
In fact, the 30-year-old did reveal recently that he had played the entirety of last season with an injury which certainly seemed to hamper his game. Now that he has undergone surgery for the same, he should be back to his best.
Since his arrival from Bayer Leverkusen in 2015, Son has made an indelible mark on Tottenham, impressively scoring 145 goals and providing an additional 80 assists in 372 appearances. His impact on the pitch cannot be underestimated.
From the left-wing, Son is a delight to watch when in full flow. There are not many defences in the world who know how to stop the Tottenham man. Time and again, he is the man for both goals and assists.
Shifting to a more attack minded approach under Ange Postecoglou should do the South Korean the world of good. He will finally have the freedom to express himself and this could unlock the beast in him.
We must also not forget that Tottenham are not in a position to sell Son without signing a replacement for him. Richarlison can play in that position but he is not natural there and Ivan Perisic is too old to take a bet on.
The Saudi clubs are really casting a fishing net in Europe and snapping up players for fun this summer. However, Son is one player we hope they are not getting as he has unfinished business at the N17. Let's hope he chooses to stay.