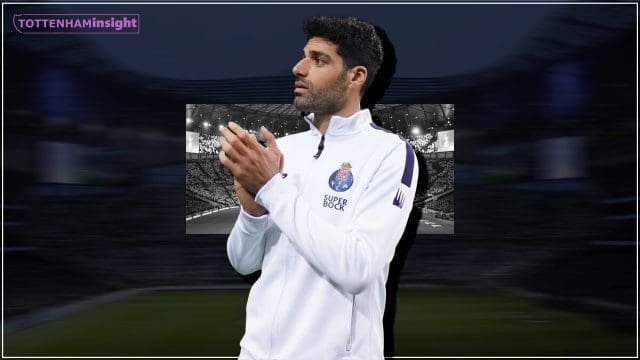 In a new twist to Tottenham's striker saga – Daniel Levy is reportedly eyeing a move for FC Porto striker Mehdi Taremi as a potential replacement for Harry Kane.
Italian journalist Gianluca Di Marzio has revealed that Spurs are actively engaged in discussions with Porto regarding the transfer. While no agreement has been reached yet, the pursuit of Taremi highlights Tottenham's determination to reinforce their attacking options.
Recent reports suggest that Tottenham Hotspur has turned its attention to FC Porto's prolific striker Mehdi Taremi.
Following a highly successful season with Porto where he notched up an impressive 31 goals and 14 assists, Taremi has garnered significant interest from various clubs, including those in the Premier League.
As Spurs prepare for a potential departure of star striker Harry Kane, they appear to be considering Taremi as a viable replacement.
As earlier stated, Tottenham are actively engaged in negotiations with FC Porto regarding the transfer of Mehdi Taremi. Spurs are is reportedly willing to offer around €24 million for his services. While as per the reports this figure falls short of Porto's initial asking price of €30 million, it indicates Tottenham's eagerness to secure Taremi's signature.
???????? @SpursOfficial in contact with @FCPorto for striker Mehdi #Taremi. #THFC are ready to offer €24m, while Porto are asking for €30m. ⚪️ @SkySport @SkySports

— Gianluca Di Marzio (@DiMarzio) August 4, 2023
These discussions signify the club's proactive approach to reshaping their squad ahead of the upcoming season.
The potential acquisition of Mehdi Taremi highlights Tottenham's efforts to find a suitable replacement for Harry Kane, who has been linked with a move away from the club.
Taremi's exceptional goal-scoring record in the Portuguese league, coupled with his versatility in attacking positions makes him an appealing option for Spurs. His ability to find the back of the net and contribute assists aligns with Tottenham's attacking ethos.
While Tottenham's interest in Taremi has gained traction, there's no official word yet on whether the two clubs are close to an agreement. Porto's management is likely considering the offer and negotiations could continue over the coming days. The reported €24 million figure offered by Tottenham is a significant sum that may tempt Porto to part ways with their star striker.