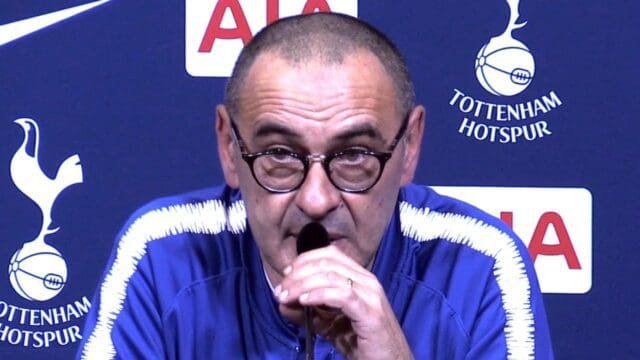 It's been five-week since Tottenham sacked Jose Mourinho and the Spurs faithful are still waiting for his replacement. Among all the names linked with a move to N17 in the last five weeks, one has been a worrying name in Maurizio Sarri.
Journalist Raffaele Auriemma suggested last week that Maurizio Sarri is keen to return to the Premier League. Speaking on the Italian TV show Si Gonfia La Rete – Raffaele claimed that Sarri wants a four-year deal and a say in transfer marker with his agent making rounds in England.
It is also expressed that the Italian "would like [to join] one between Arsenal and Tottenham."
NEED TO GET THIS ONE SPOT ON…
Spurs fanbase has protested against the club's ownership group ENIC and chairman over how they have run the club in recent years. Everything kicked off with shock involvement in Super League – but this was the final straw to years of underachievement and underspending.
Spurs hierarchy are under immense pressure and they need to get this appointment spot on or risk facing further fracture in relationship with supporters – something which may come if they opt to bring in Maurizio Sarri.
Jamie Redknapp, former Tottenham midfielder, also questioned whether the Italian would serve the cause at N17 and how would Spurs faithful react, he said on Sky Sports (via Goal): "Maurizio Sarri will not excite the Spurs fans one bit, not one bit."
There are reports which suggest that Levy wants an 'attack-minded man in charge, someone who is focused on developing young players and plays attractive football. Now, Sarri did exactly the opposite during his time at Stamford bridge. You only have to look at Callum Hudson-Odoi's treatment to see that.
Further, Sarri is not much of a motivating gaffer, and given how José lost the dressing room to exactly the same thing – it would be strange to appoint the 62-year-old, who lost the backing of 'big names' at Chelsea for 'months' and his relationship with some of them was 'irreconcilable' right before he was shown the door.
Chelsea's then third-choice keeper Rob Green once confronted Sarri in front of the whole squad, suggested that the Italian has "no plan B" and was a "transactional kind of manager."
The 62-year-old is also been slammed for being "very stubborn," – Yes, that does sound exactly like another José Mourinho and it definitely won't please the Tottenham fanbase.
Many were against his appointment at Chelsea, and look that that worked out. The same is to happen if Levy brings him to Spurs.