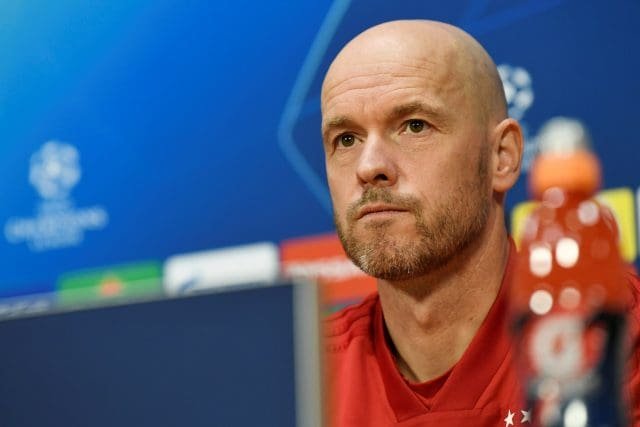 Tottenham Hotspur has a following of ardent fans over the world and particularly in England. The 2020/2021 season has been yet another topsy-turvy season for the London club, with them languishing in 6th position and out of European places for next season with 4 games to go. To add fuel to the fire, they were dumped out of the Europa League by Dinamo Zagreb, a competition they should've been in till the semi-finals at least considering the quality of squad and manager they have. Then the recent sacking of Jose Mourinho just a week before a League Cup final against City. This season has not been an easy one for Spurs fans.
What followed the sacking of Mourinho was the usual linking of a host of managers and ex-players with the job. Even though it has been currently given to Ryan Mason, the ex-Spurs midfielder, his job is on an interim basis.
A name that was linked with the top job at Tottenham was current Ajax manager Erik Ten Hag. The manager who led a young and inexperienced Ajax side on their famous run to the semi-finals of the UCL in the 2018/19 season, defeating Real Madrid and Juventus on the way, and eventually losing to Tottenham in the semis.
However, the links died as quickly as they had risen with the Dutch manager signing a new contract with Ajax within a week of the rumours starting. As the links died down, a question that arose was, was he really in line for the job, or were these rumours just part of agent and media games to negotiate a new contract with Ajax?
According to Veronica Inside analysts René van der Gijp and Johan Derksen, it was nothing more than agents at play to increase the value of the manager. VoetbalZone reported van der Gijp as saying, "You can't tell me that as a club, you have a few years with Mauricio Pochettino and then Jose Mourinho, and then you talk to Erik Ten Hag. Don't you think, well, that is quite a difference. Don't you think so, Wim?"
"Yes, of course, he has a bit against him, eh. In stature and whatever else," added fellow panellist Wim Kieft, before Derksen suggested that it could be agents at play. That happens very often. Agents throw that into the media with friendly journalists, and then they hope that something "comes loose there."
It is completely normal for agents to start rumours in the hope to increase the value of their clients and securing them bumper contracts at their current clubs. In most cases it works, as evidenced by Ten Hag's contract at Ajax, sometimes it doesn't.
The analysts at VeronicaInside likened the Ten Hag situation to that of former Netherlands national team coach Bert van Marwijk after the 2010 World Cup. The Dutch coach led his nation to the 2010 World Cup final where they lost to Spain. However, his performance led him to be linked with several top teams around Europe, including Liverpool. However, these links never materialised and he remained the national coach for 2 more years. These links were nothing more than agent rumours and was similar to the Ten Hag links to Tottenham.
Tottenham are still in the market for a new manager, having missed out on Hansi Flick who will coach the German National team and Julian Nagelsmann who will replace Flick at Bayern Munich next season. It remains to see who the club sign to lead them next season, with the possibility of Ryan Mason taking on the permanent job not ruled out.