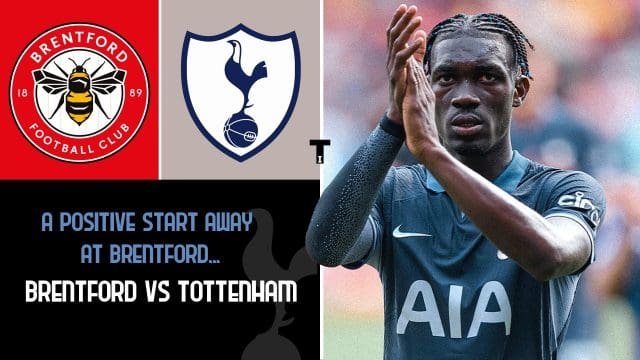 Tottenham Hotspur drew 2-2 with Brentford in their Premier League debut under new manager Ange Postecoglou, having started their Premier League campaign without Harry Kane – which seems like something that hasn't been the case since forever. It was a complementary display of encouraging aspects and areas for improvement. And to be honest, under Ange Postecoglou – the club has shown promising signs of progress that we as fans can get behind.
Despite the match ending in a draw, there were commendable aspects that emerged. First and foremost, the team exhibited a solid debut performance from new signings and the decision to place Micky Van de Ven directly into the backline demonstrated a bold and confident managerial approach that is crucial for the team's growth. This reflects the manager's trust in the players and a willingness to make decisive choices, setting a positive precedent for the season.
Additionally, the inclusion of Destiny Udogie and Vicario, both of whom made their competitive debuts and this also shows the added depth to the squad. The midfield was a standout feature, particularly Bissouma's performance. His dynamic playstyle and box-to-box abilities were fully on display – something we haven't seen since he donned that Spurs badge and his partnership with James Madison allowed for creative playmaking and attacking intent. Yuves' freedom to express himself on the pitch reflects the shift towards a more attacking and fluid style of play under the new manager.
While there were positives, it is essential to acknowledge the areas of concern that emerged during the game. The performance of the front three, consisting of Son, Richarlison and Kulu, left much to be desired. Furthermore, Tottenham's forward play needs to diversify to avoid becoming predictable, as evidenced by the tendency of some players to cut inside predictably. Adjusting to Post Kane ear, it will take some time though…
Through the post-Kane era, Tottenham showed promise with Maddison's playmaking. The game symbolized the exciting unpredictability of the Premier League, leaving fans eager to extend this expansion period.
Emerson Royal despite a commendable effort to contribute offensively still faces skepticism regarding his defensive capabilities. This underscores the importance of consistent defensive efforts across the pitch.
There is alot to be proud of and excited for if you are a Tottenham supporter. There is finally an exciting style of play that will define us and finally a gaffer that is loved and respected by the whole fan base.
Upwards and Onwards…