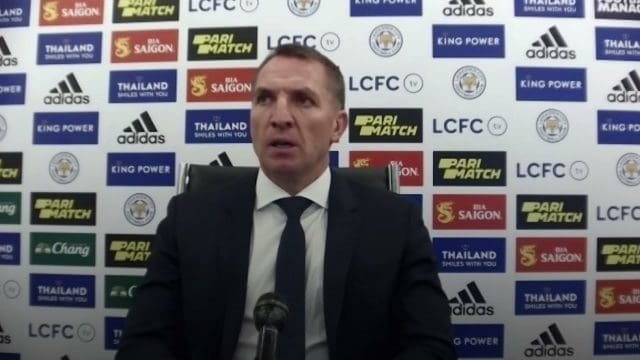 One of the first names mentioned with the Tottenham managerial job following Jose Mourinho's sacking was Brendan Rodgers. And after what he's done with Leicester City & previously with Liverpool, you cannot have a more perfect candidate judging by what he's done everywhere he was at the helm.
The Leicester boss has built an impressive team at King Power after having rebuilt his reputation at Celtic. He took charge of the Foxes in 2019 and they are competing for the Champions League spots already. Rodgers' stock has been leaping up since his time at Liverpool followed by an exception time in Scotland with Celtic & now with Leicester.
His rising stock caught the attention of Spurs chief Daniel Levy, and this is not the first time Levy has approached Rodgers to fill in a vacant managerial position. The Northern Irishman was approached by the Whites from North London in 2012 before Brendan left Swansea to take the helm of Anfield with Liverpool.
Levy ended up hiring Andre Villas-Boas then & sacked him about eighteen months later, and the story is pretty similar if we talk about Mourinho's reigns at N17.
Rodgers is again been linked with a move to North London, but judging by his previous comments – he'd be out of the horse race before the gunfire.
"They are a great club and one of the things I looked at was their history. They'd had 11 managers in 18 years there, so for someone like myself, who needed to create something, I needed to go to a club that was going to give us that opportunity," Rodgers said at the time.
With reports linking him to the Spurs job, Rodgers was once again asked about any possible move to Tottenham after Leicester got better of Crystal Palace on Monday. "Tottenham is a fantastic club, it's one of the big clubs in this country, it's a huge club. My focus is purely here," he said.
With Brendan Rodgers out of the running, there is no obvious target for the Spurs job as of now – as Ryan Mason takes charge until the end of the ongoing campaign.
Julian Nagelsmann was seen as a potential target but his future is now secured with Bayern Munich, as he will leave RB Leipzig to take over the German champions next season.
Daniel Levy and Spurs need to sit and straighten out the plans they are in pipeline for the club, as it'd be important for the next manager to be sold on those rather than Spurs on his plans which has never ended right.