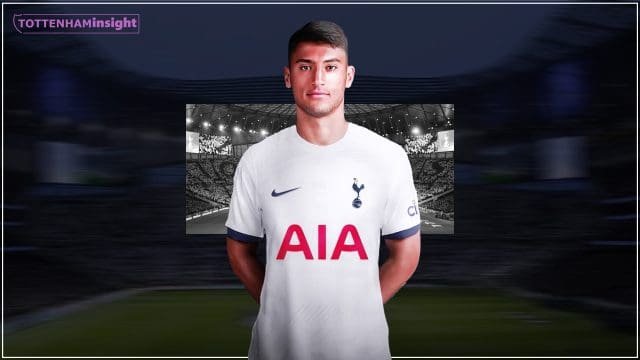 Last night, Spurs fans were greeted with exciting news – Alejo Véliz is now officially a Tottenham player, pending the completion of his medical. It's a significant move that has been eagerly anticipated, and now it's a reality.
Alejo Véliz wanted Tottenham despite an approach from another top European club. Contract will be valid until June 2028 ⚪️???????? #THFC

Current plan is for Véliz not to be loaned out to Rosario Central. Decision will be made soon, documents to be exchanged in the next 24/48h. pic.twitter.com/ORU6vQn2Je

— Fabrizio Romano (@FabrizioRomano) August 4, 2023
Véliz, a promising young talent, is set to join the ranks of the Lilywhites. This signing holds a lot of potential and promises to inject fresh energy into the squad.
Initially, there were talks of potentially loaning Véliz back to Rosario Central until December allowing him to continue his development in his home country.
However, recent reports have emerged suggesting that Tottenham have different plans. The club is reportedly keen on having Véliz be a part of the squad from the start of the upcoming season.
The signing of Alejo Véliz raises intriguing questions about how he fits into the squad's dynamic. Could he potentially be the understudy to Richarlison, assuming Harry Kane's departure? – The decision to retain him for the season's beginning hints at the possibility of him being more than just a backup. It's a bold move that showcases Tottenham's eagerness to integrate him into the first team immediately.
Unveiling Alejo Véliz: Who is He?
Alejo Véliz, a 19-year-old Argentine forward, is the latest gem to emerge from the football-rich nation. Standing tall at 6 feet 2 inches, Véliz is not just another young talent – he's a standout performer. His previous club, Rosario Central, provided the platform for him to showcase his skills. With 11 goals in 23 appearances for Rosario, his performance turned heads both locally and internationally.
Véliz' presence on the international stage was cemented during the Under-20s World Cup, where he proved his mettle. He emerged as one of the top scorers in the tournament, a testament to his scoring ability and potential. Such performances on the global stage highlight his readiness to take on bigger challenges and his readiness to compete at the highest level.
A Shift in Perspective
The signing of Alejo Véliz signals a potential shift in Tottenham's transfer strategy with emphasis on incorporating promising young talents into the squad showcases a willingness to foster youth development and build a sustainable future.
While skepticism exists, the excitement surrounding Véliz' arrival is palpable, offering fans a glimmer of hope for what lies ahead.