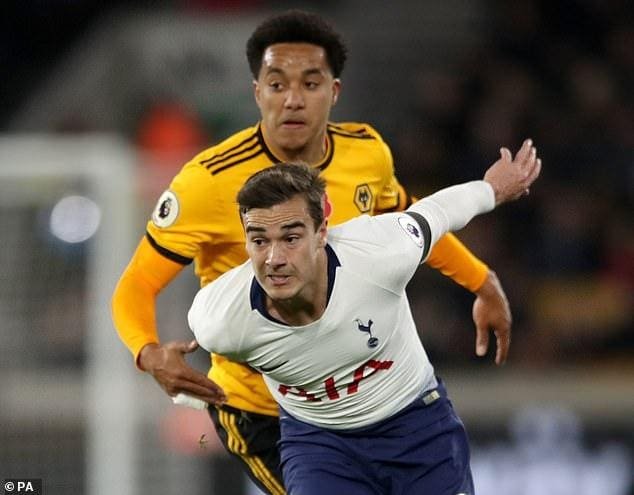 Tottenham saw their 5 games unbeaten streak in the Premiere league come to an end as they lost 3-1 against Wolverhampton which came as a shock to all.
Having preciously hammered EVerton and bournemouth 6-2 and 5-0, Spurs were expected to ease through the fixture against Wolverhampton. However 3 goals in quick successions saw SPurs bottle their chance to put pressure on Liverpool who hammered Arsenal 5-1 to go 9 points ahead of Spurs.
City's 3-1 victory means Spurs have slipped to the 3rd position 2 points behind Manchester City and another loss could mean Spurs slip up to the 4th position as Chelsea are just 3 points behind them.
Talking after the game against Wolves Harry Winks said, "We said before the game that it was must-win, so to come away with a defeat… everyone is fuming.
"Listen, when people say that on social media, that is their own opinion, they are entitled to that. But inside the club we know how good we are, we know how far we can go, we have belief, regardless of the result.
"I have to be careful about this. We are doing really well. We have had one defeat since Arsenal away. We are doing so well. We have had some fantastic results in the Champions League and the Premier League and it is important to remember how well we are doing and we don't get carried away with a defeat."
"It shows how well we are doing this year to be considered title contenders and to be sitting here disappointed that we aren't closer to the top than we'd expect, it just shows us how far we have come and how well we are doing.
"We have high expectations ourselves and if we don't come away with a win against Wolves at home we get frustrated at that. It just shows how high our standards are set at the moment and how ambitious we are."
Spurs faced their 1st loss after the 4-2 loss away at the Emirates but 4 matches in 10 days made the players appeared tired and exhausted in the 2nd half of the match as a result of the same players have been playing back to back and a long list of injured players.