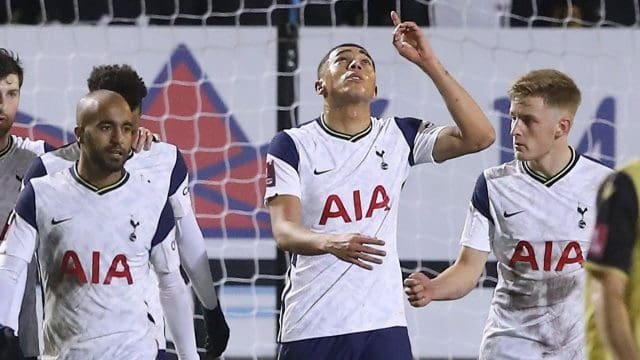 It is always a surprising turn of events when somebody eventually repays your faith in them and Jose Mourinho has recently experienced this with Carlos Vinícius. It is a good surprise, it was coming and Mourinho is glad that it is coming now. Tottenham have been over-reliant on Harry Kane this season, someone who has been injury-prone himself in recent times, and there have been several factors for this- Gareth Bale's inconsistency, Heung-Min-Son lacking form mid-season, and the likes of Steven Bergwijn, Lucas Moura, and Erik Lamela not being able to get consistent game-time to perform week in and week out.
Thus, Mourinho's need of the hour in the summer of 2020, rather than the autumn due to the pandemic, was a back-up striker for Harry Kane, and eventually, Carlos Vinícius was the man chosen as he was fast, tall, had the finishing skills Mourinho likened in his striker and the fact that he could be purchased on a loan deal.
LACK OF GAME-TIME IN THE BEGINNING:
Although Vinícius was brought into the squad 2 weeks into the Premier League, Mourinho did not want to rush the striker into games and believed he had a lot of match fitness to gain before he could compete in the most competitive league in the world. Thus, Mourinho preferred Vinícius in the Cup games and while Vinícius did excel in the Europa League, he couldn't generate the kind of presence in the box that Harry Kane would.
In many aspects, Kane and Vinícius are quite different. Harry Kane is one of the best in the Premier League to hold up a ball and bring others into the game, something the Brazilian lacks and has not developed yet. An underrated aspect of Kane has also been his range of passing, his creativity, and his progressive passing. Kane has not been given enough credit this season as he is not only the joint-top goal scorer but, he is also first for assists in the league this season, ahead of the likes of Bruno Fernandes and Kevin De Bruyne.
These aspects are something you don't relate with Vinícius and while it is not a negative, Mourinho is surely working behind the scenes to instill these characteristics into the Brazilian. However, finishing the ball into the back of the net is something Vinícius excels at and it is evidenced by the fact that he has a goal every 78 minutes this season and a goal or assists every 60 minutes. These are world-class numbers, however, because most of his appearances have come in the Europa League and the Cup games, it does not reflect his actual performances.
WILL TOTTENHAM MAKE CARLOS VINICIUS A PERMANENT TRANSFER?
Vinícius however, now, is starting to become important to this Tottenham side, which the fans could see in Tottenham's 2-0 away win against Aston Villa last weekend. For a good 20-25 minutes, Spurs created little to nothing, but then, on the half-hour mark, a mistake due to Emi Martinez led to Lucas Moura running through the Villa backline only to square it to Carlos Vinícius, who was not going to miss out an empty net from 3 yards out. This is where Vinícius could be useful to Spurs, because, the Brazilian was the reason Villa goalkeeper, Emi Martinez made the mistake.
The 25-year-old wants to chase down balls played over the shoulders of defenders and this is exactly what created confusion between the Villa backline and their keeper, and Tottenham took full advantage. Harry Kane would not have pursued that ball and this is where Vinícius provides Spurs with something different.
This, in turn, is proving to be a conundrum for Spurs now, because the Brazilian's loan deal is up this summer and the only way Spurs can secure a permanent transfer is by activating his 36 million Euros option to buy clause- something Benfica slotted into the contract when Tottenham brokered a loan deal for the 25-year-old in October 2020.
Tottenham in turn, do not wish to pay the entire sum, which they had made clear to Benfica in the beginning, as Spurs are only ready to shell out 17 million Euros and while that is only 50% of the aforementioned amount, Benfica could work out a deal in installments.
Vinícius, while not the most talented, is capable of coming up with the goals when given a chance. It is just a matter of how badly Spurs want him or Benfica's sturdy stand on the issue.
Tottenham could always look for better strikers in the Premier League itself at a cut-throat-price, but due to Vinícius' current role in the squad, a deal could be finalized between Benfica and Tottenham this summer based on a reduced fee and added on payments.