Jan Vertonghen's contract is set to expire at the end of June and he is set to leave Spurs without completing the season. The club and the player have been negotiating for for some time now but Spurs are yet to match his current wage demands.
Tottenham have plans to keep Vertonghen from leaving but slowly it looks likely that the Belgian will leave North London after next month. The 33-year-old Belgian defender has  reportedly requested a 2-year deal on the same £70,000-per-week wages he is on now. Tottenham managed to tied down Alderweireld on a new long-term contract and cahed in on Eriksen in the previous transfer window.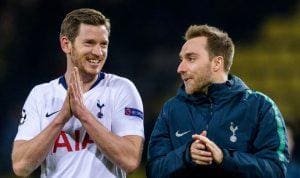 ESPN is reporting that Vertonghen is very likely to leave Spurs when his contract expires. It should be noted that his contract expires on June 30 and not at the end of the season. FIFA has granted clubs permission to extend players' contracts that would ensure the completion of the 2019/20 campaign with their current club. Premier League also confirmed this move.
Now with both parties, the club and Jan, have not been able to come to an agreement on the Belgian's future, it may give Tottenham a big blow to their top four fight. The North London side are currently eighth in the Premier League table, 7 points behind city-rivals Chelsea and the final Champions League slot.
Conte's Inter Milan have been heavily interested in bringing the Belgian at the San Siro and reunite him with Eriksen, while Roma and former club Ajax have also shown interest.
Tottenham signed Vertonghen for £12m in 2012 from Ajax. Vertonghen has went on to become a key member of the Spurs squad and has made over 300 appearances for the club. He formed a key defensive partnership with fellow countryman Alderweireld. However, his gametime reduced severely after the club signed Davinson Sanchez in 2017.
This season he has started 18 games for the club in the Premier League with new manager Mourinho preferring Toby-Sanchez duo over him. The Belgian is optimistic of his chances of signing for a big club because of the financial crisis due to COVID-19 pandemic.
"The corona crisis has turned out positively for the interest," Vertonghen said.
"Many clubs have no money. I'm just waiting right now. I want to sign for the right club. That could also be Tottenham, but it must be a club with ambition. Because I still have ambition too.
"I want to continue at a good level. When the club that suits my ambitions the best comes to me, when the league suits me and when the contract length suits me, I will sign for that club."