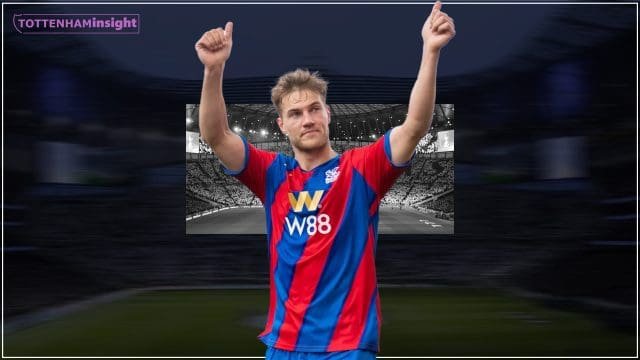 The upcoming season is fast approaching, with only about a month left and tomorrow's pre-season friendly against West Ham is sign of things to come and that business is about to get serious.
However, Tottenham Hotspur are still struggling to secure their center-back signings, which is both farcical and shambolic given how big of a priority it was going into off-season.
Today, there are reports linking Tottenham with another player, Joachim Andersen from Crystal Palace. To make it clear – Andersen's partner Marc Guehi was also subject to links with a move to Hotspur Way but nothing materialised and here we are…
The ongoing struggle to secure center-back signings raises several questions. Why does it seem that we are the only top-half club unable to address this position effectively? We have spent substantial sums on other players in the past, so why does the club hesitate when it comes to investing in quality center-backs? Can we not drop 30, 40, 50, or 60 million pounds on a center-half? Why does it feel like we always end up targeting the next level of players when we fail to secure our primary targets?
Micky Van de Ven and Edmond Tapsoba deals have been lingering for weeks without any clear progress. Reports of a medical examination that didn't materialize and potential breakdowns in negotiations have only added to the uncertainty. Interestingly, as these rumors continue to circulate, new reports emerge suggesting Spurs' interest in Crystal Palace's Joachim Andersen. A left-footed center-half, who was previously linked with the club a couple of years ago but he ended up moving to Selhurst Park from Lyon for a reported fee of €17.5 million.
However, the price tag for Andersen is now rumored to be around 50 million pounds. While some fans may doubt his abilities, I personally believe he is an upgrade compared to our current center-back options. Andersen has demonstrated his comfort on the ball and possesses a good passing range.
It is essential to consider whether the Andersen rumors are simply smoke screens or if he has been a target all along. Perhaps Micky Van de Ven and Tapsoba were the preferred options, but Andersen could be a viable alternative. Nevertheless, it is frustrating to begin another season with the same group of defenders. While there are talks of players leaving, they are still present, and it feels like we are unable to swiftly wrap up deals or address crucial areas of the squad.
The club's recent promotional activities, such as the trip to Australia & Asia and the positive atmosphere among the players, serve as PR strategies to uplift the mood. However, genuine Spurs fans, those who prioritize the club's best interests understand that entering the new season with the same defensive options will hinder our progress regardless of whether Harry Kane stays or leaves.
The club's inability to swiftly secure deals and improve the defensive line raises concerns among fans and honestly is a big frustration to me. While Andersen is now linked with Spurs, questions remain about his suitability and the club's overall transfer strategy. The upcoming season approaches and the need for reinforcements in defence cannot be understated.