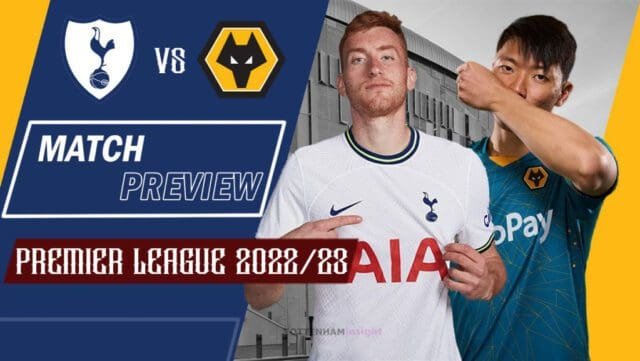 The Premier League has been off to a wonderful start and this weekend plays host to yet another exciting fixture as Tottenham Hotspur host Wolverhampton Wanderers come weekend. Spurs' season got off to a flying start when they defeated Southampton by a score of 4-1 in their opening game and rescued a last-minute draw versus Chelsea. Wolves on the other hand lost to Leeds United after throwing away a one-goal lead and drew versus Fulham in the next match. They are still looking for their first win.
Wolves have always been something of a wildcard and are always viewed as top 6 hopefuls, but seldom end up finishing there. They defeated Tottenham 2-0 in their final game of the previous campaign. Jimenez and Dendoncker each scored one goal for the Wolves.
Based on current form, Tottenham are expected to win comfortably and it would take a Wolves master class (as they often manage versus the big 6) to upset Spurs. As things stand currently, Tottenham are 4th on the table while Wolves are 14th. Antonio Conte has built something of a warrior team moulded against his own personality and it is evident by the way Spurs are playing their football. Their high-intensity football might prove to be too much for Bruno Lage's men who seem to be low on confidence and motivation.
Tottenham have been one of the busiest teams in the transfer market, adding Richarlison, Bissouma, Udogie, Spence, Perisic and Lenglet to their fold. Wolves on the other hand have had a not-so-glamourous window but have made key signings in Matheus Nunes and Goncalo Guedes.
The way Tottenham have been playing, they might aim for a top 4 finish, after finishing 4th the previous season and Wolves on the other hand will be hoping to gain Conference League qualification after finishing a disappointing 10th previously.
Where and When?
Venue: Tottenham Hotspur Stadium.
Date: Saturday, 20th August 2022.
Time: 12:30 PM (BST).
Match Officials
Referee: Simon Hooper.
Assistants: Adrian Holmes, Mark Scholes.
Fourth official: Robert Jones.
VAR: Lee Mason.
Assistant VAR: Lee Betts.
Team News
Antonio Conte is known to be a coach who asks a lot of his players and this sometimes results in a long string of injuries. However, this time he will be pleased with the number of players in the treatment room. Oliver Skipp has been forced to miss the first two games due to a hairline fracture in his heel. The Englishman may resume training before the end of the month, according to prior comments from Conte, but he is still ineligible for this match.
Last week, Clement Lenglet suffered what Conte called a "small issue" with his adductor, which prevented the Frenchman from playing against Chelsea. That was reportedly just a precaution, and the loanee from Barcelona should be among the starters this weekend.
Conte will look to start Perisic and Richarlison with Sessegnon not making much of a difference and Son in need of rest following the Chelsea match.
Another setback for Spurs comes in Cristian Romero, who is set for a brief spell on the sidelines after picking up a muscular injury in training.
While there are no Spurs players on suspension for the game on Saturday, Conte will not be in charge due to the red card he received for his altercation with Tuchel at Stamford Bridge.
For Wolves, on the other hand, Joao Moutinho was pictured among those who trained at Compton Park after missing the first two matches as the 35-year-old picked up an injury just before the match versus Leeds.
Raul Jiminez, just a few years back scored 17 goals for the Wolves but since then suffered a horrific head injury and questions have been asked of his form ever since as he netted just 6 times last season. He was injured again in July and is expected to be sidelined for a number of weeks with Hwang-Hee-Chan expected to lead the line in his absence baring any additions to the striking department.
Match Analysis
Tottenham have found their identity under Conte and all of them will seemingly go to war for him. While this attitude is definitely important, Conte has also managed to transform the way Spurs go about with their football. Moving away from a 4 at the back to Conte's preferred 3 at the back was always going to be a challenge for the team that largely had its identity formed by Pochettino. However, with key additions over a couple of seasons, Spurs have ensured that they can create with their wingbacks, play fast-paced football with their wingers and defend meticulously with their centre-backs, defensive midfielder and box-to-box midfielder. An attack of Kulusevski, Son and Kane is bound to strike fear in any defence and with Wolves losing their key defender and leader Conor Coady, they might find it difficult to cope with this attack.
They themselves do not have as effective an attacking with new signings yet to find their feet. With Pedro Neto, Raul Jiminez, Guedes, Podence, Hwang and now Matheus Nunes, Wolves possess a wealth of options but finding the right combination would take a while. A disjointed and unfamiliar attack versus a mainstay defence of Tottenham is a battle where only one team can come out on top.
Key Players
Harry Kane
The star player for Tottenham and England will once again be key for his team as they play against a Wolves team which will try to get as tight as possible and set up a low block system. Dropping into space and creating chances for his strike partners and getting on the end of crosses to finish beautifully are Harry Kane's specialities and the former will come in use against Bruno Lage's system. A threat of set pieces, as seen versus Chelsea, Harry Kane can prove to be the difference maker versus Wolves once again. He has been viewed as one of the world's best strikers for quite some time now and with him, on the teamsheet, there is always a goal around the corner.
Rodrigo Bentancur
Rodrigo Bentancur, ever since arriving from Juventus has made himself virtually undroppable. Although the Uruguayan international is frequently categorised as a central midfielder, it is difficult to assign him to a certain midfield position. He has played as a defensive midfielder, a box-to-box midfielder, and even an offensive midfielder, but he isn't reliable enough to be called a utility player or a jack of all trades. This is the kind of player Antonio Conte has come to respect and is the one Conte will enjoy having on his team. He is sound in defence and can assist Hojbjerg at the centre of the ground and his crisp short passes can help him connect with Harry Kane up top too. His immense work rate sees him bombing up and down the pitch, and his strength coupled with pace makes him quite the workhorse.
Pedro Neto
Pedro Neto has gone under the radar ever since his move to Wolves and while he is a quality player he never seems to find that consistency. However, he has forced his way into the starting 11 ever since Diogo Jota's move to Liverpool. Neto penetrates the space left by the opposition with his explosive pace and possesses a deft finishing ability to score himself along with the intelligence on the ball to play a simple pass to Wolves' number 9. He has always been aware of Ruben Neves' point-perfect passes and in the match versus Tottenham will look to exploit the space left in behind the wingbacks to get at the end of a Neves' pass to switch the play.
Neto moves quickly while maintaining composure, performing precise one-two combinations or easily defeating his opponent one-on-one. He then lifts his head and, more often than not, makes the right choice when it counts. To produce a dangerous cross, a precise pullback, or even a searing strike towards goal, he just needs to conjure up half a yard of space in and around the penalty area, or even down a blind alley on the byline. He has all three of those weapons of the greatest calibre at his disposal. When given possession in the final third, Neto will continue to try to make things happen since he continuously wants to have an influence.
Ruben Neves
Ruben Neves will possibly be Wolves' most important player and all of his best attributes, long shots, switching the play and marking will be critical in Wolves are to get anything from this match. With his position and Harry Kane's gameplay, these two will be engaged in a match-long battle that has the potential to decide the game. Neves will need to be at his best to prevent the ball from reaching Kane in the attacking midfield areas and close him down before he makes a penetrating pass.
Further, he will need to link up with Pedro Neto and play long balls to him as the Portuguese will look to get in behind the wingbacks. Neves will often play this ball as soon as he has won back possession for his team and will look to launch a Wolves' counterattack.
Another one of Neves' most feared skills, his long-shot ability will be of great importance against a tight Tottenham defence. He has often displayed his accuracy from a long way out and this time too he might attempt to do the same in a bid to catch Hugo Lloris napping
Predicted Lineups
Tottenham predicted XI vs Wolves: Lloris, Davies, Dier, Romero, Perisic, Emerson, Bentancur, Hojbjerg, Richarlison, Kulusevski, Kane.
Wolves predicted XI vs Tottenham: Jose Sa, Nouri, Kilman, Collins, Castro, Neves, Dendoncker, Neto, Podence, Guedes, Hwang.