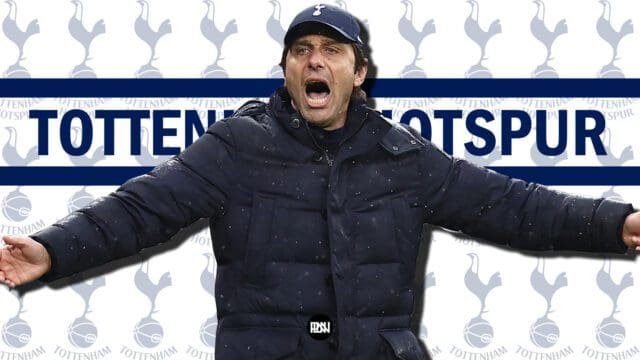 Among Tottenham Hotspur's countless struggles, their defensive woes have constantly taken pole position in posing as a major hindrance to their growth. Despite hiring Jose Mourinho midway through 19/20 to replace Mauricio Pochettino's flawed & fading tactics, the Portuguese mastermind's well-known methods failed to improve the team's defensive output. At the start of this season, Mourinho's compatriot Nuno Santo was given charge of Spurs. He failed, too. In his short stint, Spurs managed to concede 16 goals at an alarming rate of 1.6 per game in the league.
With only 5 wins in their first 10 games, a broken defence, and left without a manager, the season seemed to be yet another write-off for the North London club until the arrival of Antonio Conte. Now, Spurs are in contention for a top 4 finish.
On the surface, the numbers clearly indicate that Antonio Conte's arrival has resulted in a positive shift. It seems like the Italian has managed to implement his rigorous style of play at Spurs, a style which led Chelsea to their last Premier League trophy in 2016/17, but do the numbers hold true when analyzed closely?
DEPLETING DEFENSIVE VULNERABILITIES:
After conceding 16 goals in their first 10 games (under Nuno), Spurs have conceded only 23 goals in the following 24 games since Conte's appointment. Diving deeper into the numbers further highlights the conspicuous progress Tottenham have under Conte. Allowing goals in at an average of 0.96 per game, a massive jump down from Nuno's 1.6, Tottenham have managed to concede the 5th least goals in the league after Man City, Liverpool, Chelsea & Wolves. In the 24 league games managed by Conte, Spurs have also managed to keep 10 clean sheets as a result of their improved defensive structure and increased defensive rigidity. They have proved hard to be broken down. So, how exactly has Tottenham bridged the seemingly gaping holes in their backline?
CONTE'S DEFENSIVE FUNDAMENTALS:
Antonio Conte's unconditional love for a three-man backline continues to serve him well. His favoured backline of Eric Dier (middle), Ben Davies (LCB) & Christian Romero (RCB) has been extremely compact and resilient. Aided by the highly attack-minded wing-backs in Emerson & Reguilon, the team's formation constantly shifts between a 3-4-2-1 and 5-4-1. The north London residents are rarely seen pressing high, with Harry Kane leading the line.
As the ball progresses into the center of the pitch, the intensity of Tottenham's press increases. Their formation swiftly transforms into 5-4-1 from their attacking 3-4-2-1, leaving the center of the pitch congested & forcing their opposition to play the ball out wide. The space between the lines also quickly vanishes. Once the ball is played out wide, Tottenham forms diamond shapes all over the pitch, tightly man-marking all players. Trapped on the flank with no way out, most of their oppositions hastily cede possession, leaving Conte's team with options to mount a counter-attack or build again. Albeit, this strategy hasn't served him well against the big boys like City, Liverpool and Chelsea yet, Conte's tactics have not only upgraded their defensive structure but also enhanced their attacking prowess through better build-up play and increased involvement of the backline.
AN INVOLVED BACKLINE, THE SECRET TO A POTENT ATTACK:
Regardless of a team's ability to defend well, a football game is won by outscoring the opposition. Nuno's team failed to do either. Scoring only 9 goals while conceding 16 in the first 10 matches, under the Portuguese tactician, Spurs' football suffered. His tactics not only restricted the fullbacks to a defensive role while providing minimum width, but he also refused to use his back three to progress the ball which would push the opposition behind and let his attackers take up positions in dangerous places.
With Conte, there has been a shift in dynamics. In the build-up, the center backs, mainly Eric Dier is trusted with progressing the ball higher up the pitch. With Harry Kane dropping back into the midfield, Dier's long balls into the space vacated for Son have helped Tottenham attack quickly and efficiently. As the team occupies better positions in the opposition's half, the backline continues to provide the team with various passing options. Creating overloads in wide spaces with the wing-backs, hitting long balls across the pitch, running into spaces and inviting challenges, the importance & influence of Conte's backline in the inflated attacking output of Tottenham has been immense. All the three center backs average above 150 m carry distance p90, an astonishing surge in their numbers from under Nuno.
CONCLUSION:
Completely starved of inspiration at the start of the season, Tottenham under Conte are a replenished side. The defensive problems which have haunted Spurs for a long are slowly being rendered useless. With a top 4 fight destined to go down to the last matchday, Tottenham's defensive evolution is preparing them for a strong comeback in Europe. Beware.