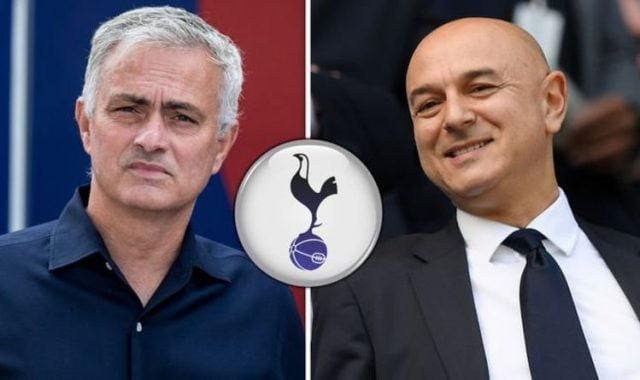 After a difficult start to 19-20 season, Tottenham were 14th in the league standings and Daniel Levy made a bold choice to replace Mauricio Pochettino with José Mourinho and the Portuguese manager helped them reach to the Europa League place.
The summer is going to important for The Lilywhites as they look to challenge Manchester United and Chelsea for the Champions League spots in upcoming 2020-21 campaign. They have already announced the signing of Danish International Pierre-Emile Højbjerg which will help Mourinho add more muscle to his current midfield options.
Here are our recommendations that Spurs should definitely consider as they undergo a rebuilding of team this summer. We have identified three problem areas that Spurs definitely need to address during this transfer window:
RIGHT-BACK: Nordi Mukiele
With the current right-back Serge Aurier linked with a move to AC Milan and Juan Foyth not highly rated by Mourinho, RB Leipzig right-back Nordi Mukiele will be the perfect solution for Spurs's right-back issues. The ideal signing would have been be Thomas Meunier but his move to Dortmund means Spurs will have to turn somewhere else.
Standing at 6.1 ft, the French International has had an amazing 2019-20 season. At time of writing Nordi Mukiele is currently a part of the squad that has made the semi-finals of the Champions League. Mukiele has earned a reputation for making tackles just at the right time and stepping up to make an interception before an opponent can launch ferrous attacks. Also he play at centre-back position as well.
In 19-20 season, he has wrapped up 4.3 tackles&interceptions and cleared the ball 2.1 times per match. In just 21 league starts, he has contributed to 4 goals&assists and completes 81.3% of the passes he attempts per match.
It is a complete no-brainier that Spurs should look to sign the young full-back with Transfermarkt stating his current value stands at just $22m.
LEFT-BACK: Juan Bernat
Current left-back Ben Davies has been a solid defender throughout his entire career but he has lacked the offensive presence required for a modern day full back. Our suggestion is 27 year-old Juan Bernat of PSG.
Bernat enters his final year of contract at Parc des Princes and Spurs should jump at every opportunity to sign him. He has a solid 19-20 campaign and has earned plaudits for his displays at Europe's premier competition. He was named man of the match against Borussia Dortmund and played an important role in the side's first semifinal run.
In just 16 league starts he has contributed to an assist every four games and completed 3 defensive actions per game. He completes a monstrous 55 passes per match with a pass accuracy of 91%. This compared with Davies's 2.9 tackles&interception and no goals and assist provided in the number shows how the Welsh International has declined this season.
Valued at just €16m the Spanish right-back will be a smart acquisition for the North London club.
BACK-UP STRIKER: Odsonne Édouard
Harry Kane really came back to life after start of football post-lockdown. But Spurs will need a decent back up striker to the English striker as they await a long 20-21 campaign. Contrary to Mourinho's style of bringing old and experienced player, Spurs should look for a player who can play the full available gametime in the group stages of Europa League and domestic cup competition along with provide a decent return in the Premier League as well.
We think Celtic's 22 year-old striker Odsonne Edouard will be the perfect man for the job. The young French striker has not only excelled in the SPFL but has been superb in the Europa League. Standing at 187cm, Edouard has been tearing up the SPFL for fun and finished as the league's top goal scorer with 22 goals, 9 more than the next best Jermain Defoe.
Even in the Europa League he has racked up 3 goals& 2 assists in just six games. He took 3.3 shots per match which was better than anyone from Spurs's current setup and lays down 1.3 chances per match.
If Spurs want to challenge for silverware next season, they must address the issues in the current squads. Signing our picks can be a good way to go forward.
Would love to hear your recommendations in the comments below!