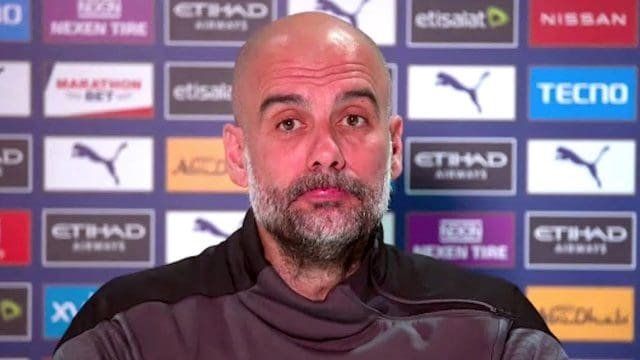 Sunday, 25th April 2021. A day earmarked in every Spurs faithful calendar as Tottenham visits Wembley to face Manchester City in the Carabao Cup finals.
But everything is not as easy as it comes, as Pep Guardiola's Manchester City are looking to kiss the title for the fourth year in a row. With the Blues from Manchester about but destined to Premiership this campaign – Spurs have a difficult task ahead of them particularly due to last-minute managerial change. But it seems City being too good will help Ryan Mason and Spurs…
Manchester City faces PSG in the UEFA Champions League semi-finals in the following mid-week and Pep speaking in the pre-match press about how he has to prioritise competitions admitted that he has one eye on the UCL clash ahead of the Carabao Cup final this weekend.
"When we played this competition at the beginning of the season when everyone is fit, it is perfect to rotate and everyone is involved and in January [sic] it is over. This season unfortunately it was not over and we have to play right now in the middle of the decisive part of the season.
"I would say the Premier League is the most important title of the season, the second is to qualify for the [Champions League] next season. This is one of the most important titles of the season – ask all the teams who are fighting to qualify for next season.
"Once we are there and arrive in that position the Carabao Cup is normally over for a long time [by now]. Now we play in the middle of an important time of the season with the Premier League and three days before a dream come true in the semi-finals of the Champions League. That's why we have a mix of contradictions. It is a final we have to play, we have to win but one eye is on the Champions League, one eye is on Crystal Palace.
"The Carabao [Cup] is nice, we have won three, we want to win four and we are going to play to win the title. But PSG is there, and Crystal Palace is there, and PSG is there. We will see what happens on Sunday."
Manchester City also have Kevin De Bruyne listed as a massive doubt ahead of the fixture having twisted his ankle in last week's FA Cup defeat to Chelsea. Though Pep & Manchester City have confirmed that KDB and Sergio Aguero have returned to full training ahead of the finale.
Could Manchester City field a heavily rotated side as Ryan Mason men targets the club's first trophy in thirteen years. Spurs' supporters can only hope.