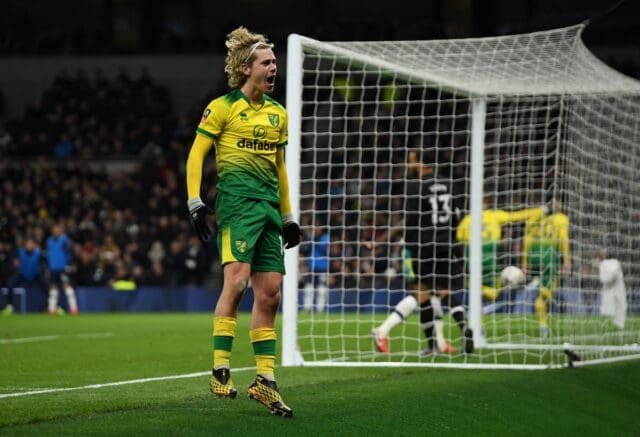 According to various reports, Tottenham Hotspur are now interested in the Norwich City playmaker Todd Cantwell. Cantwell has been doing well at the Championship and helped the Canaries at returning to the Premier League after a one-year absence.
Spurs are looking to add some attacking options after the departure of Gareth Bale and Carlos Vinicius. Both players joined Spurs for a year-long loan and have now returned back to Real Madrid and Benfica respectively. Not only that, Tottenham have come up with a list of players who will be sold very soon. This list includes the likes of Erik Lamela, Moussa Sissoko, Harry Winks, and Lucas Moura. This certainly means that the North London club has to bring in some attacking options after those departures.
While talking on the Football Terrace Podcast, Dean Jones from Eurosport said "I think midfield is an area they have been looking at anyway. Even before all the changes came along. They have been scouting Sabitzer, Todd Cantwell and Miralem Pjanić has been linked with them. So, that's an area they are going to look at with Tottenham, of course, they have been linked with defenders at the moment as well – Stuff will start to happen."
Todd Cantwell, despite his hip injury in the first half of the season, made 33 appearances for the Canaries in the Championship. Todd would be interested at the prospect of joining the North London club but Spurs are not the only club looking at him right now. Aston Villa and Newcastle United are also interested to sign the 23-year-old. If Tottenham Hotspur are seriously interested in the youngster, they should move fast to secure his signature.