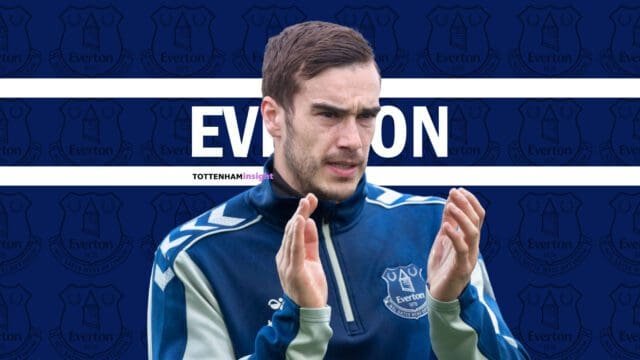 Everton have entered talks with Tottenham Hotspur to sign 26-year-old midfielder Harry Winks. Reports suggest that Frank Lampard has identified the English midfielder as the perfect option to bolster his squad for the next season, and the manager is keen to bring Spurs midfielder to Goodison Park this summer.
Michael Bridges of Sky Sports reported that Harry Winks is not in Spurs manager Antonio Conte's plans for next season, and the midfielder has held initial talks with the Merseyside Blues about a possible move. Spurs have recently signed Mali international Yves Bissouma from Brighton and Hove Albion, which has boosted Conte's midfield options. The arrival of Bissouma will mean that Winks, who was already far down the pecking order, will fall further below.
As a result, the Englishman has started looking for options elsewhere. Despite having two more years on his current contract, Tottenham Hotspur management have agreed to let the player go if the right offer arrives. The North Londoners have reportedly set the asking price at £20 million, which could prove an obstacle for the Merseysiders. Everton does not have a huge budget on hand, but after narrowly escaping relegation last season, they will have to strengthen and upgrade their squad. There are hopes amongst the Everton hierarchy that a lower fee could be negotiated with the Lilywhites, and talks are ongoing between the two clubs about the same.
Winks' career at Spurs has stalled after he emerged in the limelight with some brilliant performances back in 2016. He enjoyed a decent couple of seasons after, even making the England squad regularly. However, since the arrival of Conte, the midfielder has been effectively frozen out of the squad. Conte praised Winks and said he could count on the player in February of this year, but his minutes have been limited since the Italian's appointment in the hot seat. Winks has only made nine starts in the league this season and wants some regular playing time which has prompted him to look for a move away from the club.
Frank Lampard has stated that he would like his team to be better with the ball, and would like to play with plenty of possession. He has said that new signings at the club will be made keeping that in mind, and only players suited to his proposed playing style will be signed by the club. Winks has been selected because of his defensive-minded style of play, and his ability to retain the ball. In addition to that, he has excellent vision and the skills to pick out a teammate's run behind the defense.
Antonio Conte's first-choice midfield options include Rodrigo Bentancur, Oliver Skipp, and Pierre-Emile Hojbjerg along with the newly signed Yves Bissouma, meaning there is no place for Winks at the club as of now. Everton are in pole position to sign him, but there are a few other top-flight clubs also interested in Winks, and they could well jump at the opportunity if Everton are unable to pay the asking price. There is talk of Spurs trying to secure Richarlison using the Toffees' interest in Winks, and it could be a very interesting transfer saga this summer.