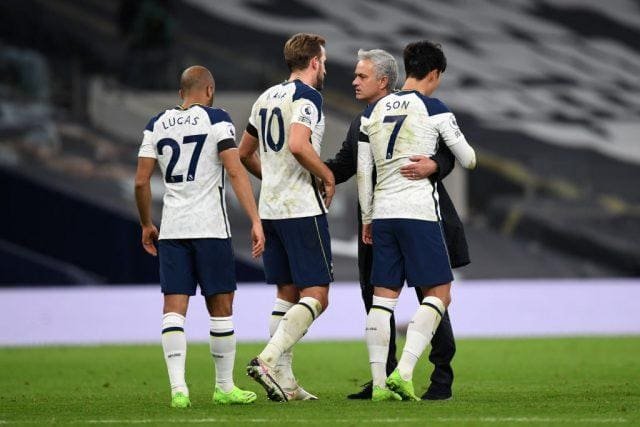 Probably a result that has not surprised anyone is Tottenham Hotspur winning 2-0 against Pep Guardiola's Manchester City.
'The Special One' has got the better of his arch-nemesis Pep and after the game Jose said he was "going to sleep like an angel" and it's easy to see why. Tottenham currently lead the Premier League table as it stands and they are entering into a territory they are not familiar with i.e being the league leaders.
In one of their biggest games of their 2020/21 campaign, Spurs have come out on top with flying colors. Just five minutes into the game, Tanguy Ndombele's brilliant pass found an unmarked Heung-Min Son who fired past the Brazilian keeper Ederson and then Harry Kane's amazing creative campaign continued as he put a pass for the substitute Giovanni Lo Celso to wrap the game.
After the game even Guardiola said Jose Mourinho's Spurs deserved to be considered title contenders,
"They are top of the league. So obviously they are more contenders than anyone else right now."
This game will be remembered as a Mourinho masterclass and this is an amazing achievement for the Portuguese manager who some have tagged as finished. But has remained calm and downplayed his side are Championship contenders,
"It feels good [to be top], but maybe tomorrow we are second again and honestly that would not be a problem for me, I am just happy with the evolution. People cannot expect us to come here and after one season we are fighting for the title. We are not fighting for the title, we are just fighting to win every match. But we are going to lose matches, we are going to draw matches."
This season it looks like Spurs might finally break the 50 year title drought especially with Man City not being at their best and Liverpool still facing issues due to injuries. The picture will be become more clearer as they face arguably the toughest run in the Premier League with games against Chelsea, Arsenal, Liverpool & Leicester City in the four of the next fixtures.