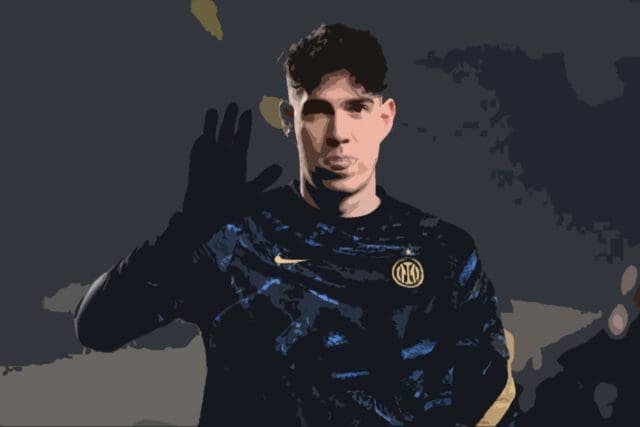 Tottenham Hotspur are said to be in a strong position to sign Alessandro Bastoni from Inter Milan despite interest shown from Manchester City. It could be a big summer for Spurs especially if they secure the Champions League spot by winning or drawing against Norwich City on Sunday.
Antonio Conte will be looking to do some big signings in the summer transfer window in order to have a solidly competitive side for the UEFA Champions League. The club has shown a lot of progress under Conte, the only area that concerns the head coach the most is the team's defence. He wants to upgrade the defensive line which will make the team more strong and more competitive against the other European giant clubs such as Liverpool, Real Madrid etc.
The signing of Bastoni stands out for Spurs as Conte is heavily in need of a left-footed centre back. Conte has already worked with Bastoni when he was the head coach of Inter Milan from 2019 to 21.
This reunion might do wonders for the Tottenham Hotspur by giving them a very strong and reliable line of defence on the left.
Bastoni was part of the Italy squad that won the Euro 2020 but he was a lesser-used player because of the dynamic duo of Giorgio Chiellini and Leonardo Bonucci in the defensive backline. But he is a strong contender to carry on the legacy post-retirement of both the legendary defenders. Alessandro Bastoni has already established himself as a reliable player for the Inter Milan side by helping them win the Serie A. Many European clubs have an eye on him and want to buy him from Milan and Tottenham have been linked with the player quite frequently. The latest source to indicate their interest is Corriere Dello Sport.
Per the Italian paper, Tottenham are leading the race to sign the defender in the summer transfer window as Inter Milan will have to make a sacrifice to balance the books and he is someone that they could cash in on.
By selling him and some fringe players they could avoid selling key players such as Lautaro Martinez, Nicolo Barella etc. Inter Milan are asking more than a higher sum for Bastoni than what Spurs had paid Atlanta for Cristian Romero last summer.
Bastoni has won more honours than Romero in his career so far which logically makes him a heavy buy in the transfer market and he is also a year younger than Romero. Therefore, Inter Milan are very much in the right to ask for a fee between €60million and €70million.
At present Tottenham are looking likeliest to sign the defender but for that, they'll have to break their transfer record (currently the €54million they paid for Tanguy Ndombele).