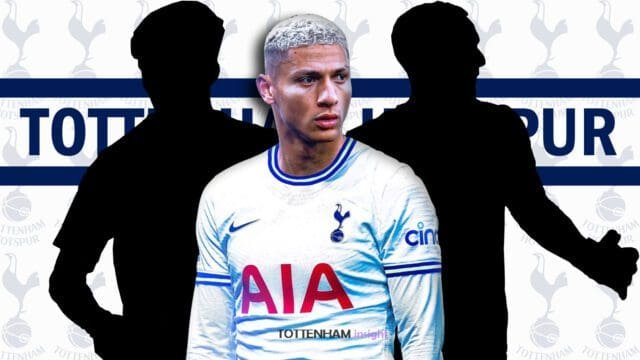 Antonio Conte's summer rebuild at Tottenham Hotspur has started on a positive note with Fraser Forster, Ivan Perisic and Yves Bissouma already signed ahead of the Italian's first full season with the Lilywhites. Spurs are expected to sign at least 6 players this window to give Conte a competitive squad for next season with the club's return to the Champions League.
With Harry Kane, the only no.9 at the club, the search for a talented striker is on for Fabio Paratici and Conte. Richarlison is a player liked by the club. The Brazilian forward who can play as a winger also, reportedly wants to leave Everton this summer in order to pursue his ambition of winning trophies with a big club to cement his place in the World cup squad for Brazil.
Sky Sports journalist Lyall Thomas while speaking about Richarlison's potential move to Tottenham claimed that the Brazilian isn't the only Everton player Tottenham are interested in this summer. He further went on to say, "As far as I understand it there are not clubs that are queuing up for Richarlison at the moment, Everton are keen to do a deal and clubs do know that, but here we are and it's not transpired yet. It's a very interesting one and he's certainly not the only Everton player Spurs like." The journalist was then asked: "Are you going to tell us any names Lyall, or is that just a teaser?" – to which he replied, "Not yet."
Everton are desperate to sell players in order to close their books of accounts ahead of the closing of the financial year on 1st July. The Merseyside club are struggling to comply with the Premier League's Profitability and Sustainability rules which allows clubs to show a maximum of 105 million pounds over three years. Everton have reported around 170 million pounds of losses which makes it vulnerable to breaking the rules and facing possible sanctions.
To avoid the legal disputes and possible punishments, selling some of the first-team stars could be the solution which would see the sale of Richarlison even more crucial to the club's future in the top flight.
Let's take a look at the two players apart from Richarlison that Spurs have been heavily linked with from Frank Lampard's side:-
Anthony Gordon
The 21-year-old burst onto the scene this season with the Englishman becoming a Goodison Park favourite. The academy player recorded 4 goals and 2 assists last season with all of them coming under new manager Frank Lampard who integrated the player into the first team. Conte could develop the talented youngster into a world-class player and provide attacking depth for the Lilywhites. Gordon's market value according to Transfermarkt.com is 15 million pounds which should be no problem for Spurs.
Jordan Pickford
Pickford was crucial to Everton's last-gasp survival in the Premier League last season with his great shot-stopping ability and leadership skills. The 28-year-old has been at Everton for the last 5 seasons and could reconsider his option given the World cup is just around the corner and Gareth Southgate has plenty of goalkeepers to choose from. With Hugo Lloris turning 36 this year and Fraser Forster the new signing who will turn 35, Conte will have to look at an upgrade in the goalkeeping department sooner rather than later. Pickford is a solid replacement for veteran Lloris and could come for a fee below his market value due to Everton's financial crunch.
Author's Verdict
The entire operation of signing Richarlison and another player from Everton could cost Spurs around 90 million pounds. The Lilywhites still have around 120 million pounds of their transfer budget to strengthen the squad and could put the money to good use in this move.