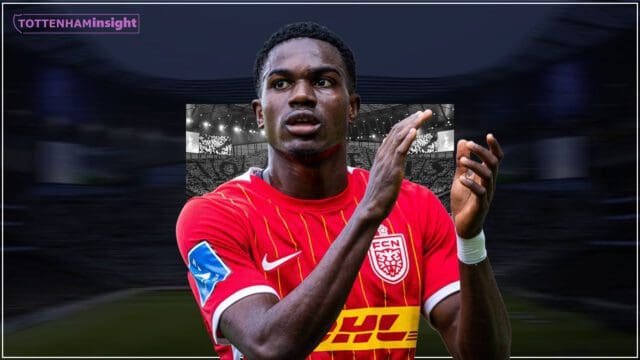 Reports have emerged suggesting that Tottenham are diligently escalating their efforts in the pursuit of Ernest Nuamah. Hailing from the renowned FC Nordsjaelland, the 19-year-old winger has caught the attention of the discerning eyes at Tottenham, who are now keenly focused on securing his services.
Rumors abound that Spurs are crafting a formal bid, meticulously considering every detail, for the Ghanaian. Intriguingly, it appears that Nuamah has captured the attention of not only Spurs, but also Burnley and West Ham. Reports suggest that both clubs have extended enticing offers in their pursuit of the talented winger.
Nuamah, a young talent whose prowess in finding the back of the net has not gone unnoticed, is being regarded as a possible answer to their pressing offensive requirements – or atleast a long term answer…
Nuamah has etched his name into the annals of Nordsjaelland having managed to find the back of the net on 20 occasions, while also contributing five assists in 49 appearances since his debut last year while netting an impressive tally of 15 goals in a mere 34 appearances last season which played a pivotal role in propelling Nordsjaelland to a commendable 2nd place finish in the fiercely competitive Danish Superliga.
According to a report by Football Insider, it appears that Tottenham's interest in Nuamah is not to be taken lightly. In fact, talks have already commenced between the club and the player's representatives, indicating a genuine possibility of a future transfer.
The latest reports suggest that Spurs are poised to solidify their interest by submitting a formal bid. Nevertheless, the prospect of acquiring Nuamah is not without its challenges. Given that he still has three years remaining on his contract with Nordsjaelland, the Danish club are likely to require a substantial offer in order to entertain the notion of parting ways with one of their burgeoning stars.
On the very first day of this season he netted a hat-trick in a 4-1 win over Viborg.
MUST WATCH: 19-year-old Ernest Nuamah absolutely BRILLIANT..