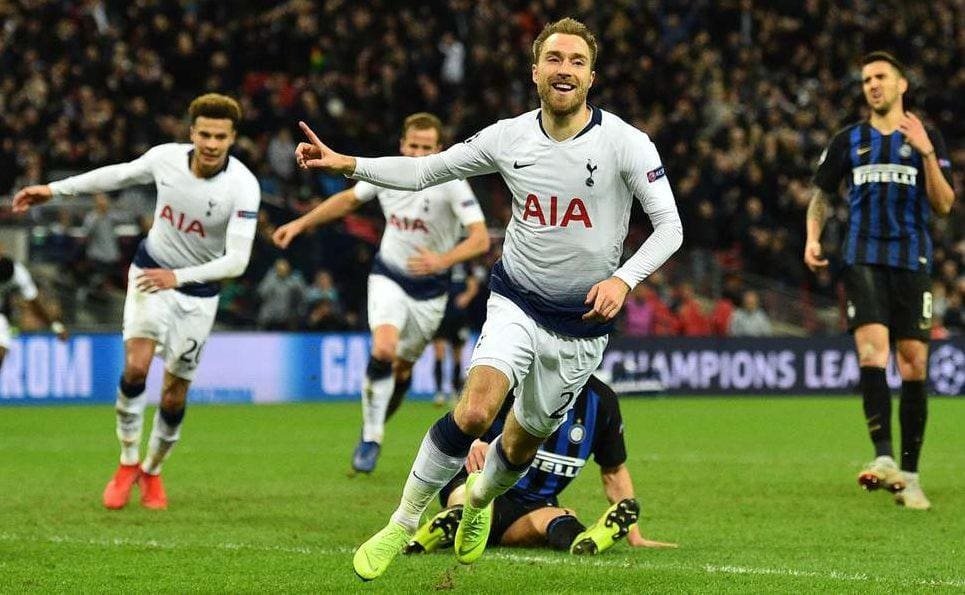 A win was necessary for Spurs in order to keep themselves alive in the race of progressing to the knock out stages of the UEFA Champions League. And they somehow made it, against Inter Milan, thanks to an 80th-minute strike from Christian Eriksen which was the only goal of the match.
SUMMARY
The first half started with both the teams trying to find a rhythm. Spurs easily bettered Inter in terms of keeping possessions and building the attack, though the Nerazzurri's defence was hard to break. Lucas Moura kept making his menacing runs but he lacked that visionary passing, as he often passed the ball way ahead of the targeted player. Much to the relief of the Lilywhites, Dele Alli was in form today as he and Eric Lamela were the directors in the midfield. Lamela's job was to bring back the possession while Alli kept creating spaces and providing key passes to Kane and Moura. Alli came close to scoring in the first half but his shot went over the bar.
Then in the 38th minute, Harry Winks hit the woodwork from a long-range effort. For Inter, Skriniar, Asamoah and Brozovic were the players who made an impact for them. They received a shock when Radja Nainggolan had to be replaced by Borja Valero in just the 44th minute as he trudged off the pitch. It seemed that Spurs would make a lead anytime though they were unsuccessful in doing so, thus leaving the results nil-nil at half-time.
In the second half, Inter came back unimproved but Spurs were loose too. Kane behaved like a lazy kid, though he made a good run at once but lost the ball easily as he reached the opposition's box. The struggle continued as both the teams tried to capitalise through corners but were unable to do so. Spurs back three (Vertonghen, Alderweireld and Davies) were always there whenever the likes of Icardi or Politano tried to run towards the goal by penetrating the final defensive line. Spurs Belgian duo was standing like a wall in front Hugo Lloris as they cancelled Inter's several attempts.
Alderweireld made a mistake in the second half as he missed the ball that went to Valero who was standing right after him. Valero could have taken advantage and converted it into a goal but he made a delay in handling the ball thus giving an opportunity to Serge Aurier who snatched it away from him.
Then came super-sub Christian Eriksen who had just replaced Lamela. He was at the right place at the right time to receive a flicked pass from Dele Alli and therefore converting it into the goal that divided both the teams until the end. But the credit for the goal goes to Sissoko who made that run inside Inter's box and after cleverly beating the defenders, passed the ball to Alli. It was Sissoko's another great performance and Alli's hard work in the midfield that earned Spurs this hard fought victory.
It was a game that could have gone in either direction as both the sides performed well as expected. But Spurs clearly deserved the victory because Inter never came close to scoring.
PLAYER RATINGS
Tottenham Hotspur: Lloris (7), Aurier (6), Alderweireld (7), Vertonghen (7), Davies (7), Winks (6), Sissoko (8), Lamela (6), Dele (7), Lucas (6), Kane (7).
Subs: Eriksen (8), Son (7), Dier (N/A)
Inter Milan: Handanovic (6), D'Ambrosio (6), Skriniar (7), De Vrij (7), Asamoah (7), Brozovic (7), Vecino (6), Politano (6), Nainggolan (6), Perisic (6), Icardi (6)
Subs: Valero (6), Balde (6), Miranda (6)
Man of the match: Moussa Sissoko
MANAGER'S COMMENTS
MAURICIO POCHETTINO:-"The performance was very good. We deserved the victory. We did everything to beat a team that is difficult to beat. The players deserve credit. We created the best chances. Now, we are in a position to us, if we win in Barcelona we are through to the knockout stages."
WHAT'S NEXT
Both the teams are now level in points tally of their group, with Spurs above on goal difference. And now only a win with a better goal margin can help any but only one of them to qualify for further stages. But that final challenge is more difficult for Spurs rather than Inter as they will face Barcelona and the latter will welcome PSV Eindhoven. Clearly, Barca are tougher than PSV and thus Inter have better chances of making it. Let's see what happens.
For now, Spurs continue to walk upon the tough road as they are to visit their arch-rivals Arsenal this weekend. The Gunners will host the Lilywhites at the Emirates Stadium as one of the Europes biggest rivalries will be on the show. A win will give Spurs a total of 6 points lead over Arsenal and keep them at 4th position in the table. A draw will only increase both of their points tally by one, leaving them on their present position. However, a lose for Spurs means Arsenal will come level with them in the table and may move above on goal difference as well.