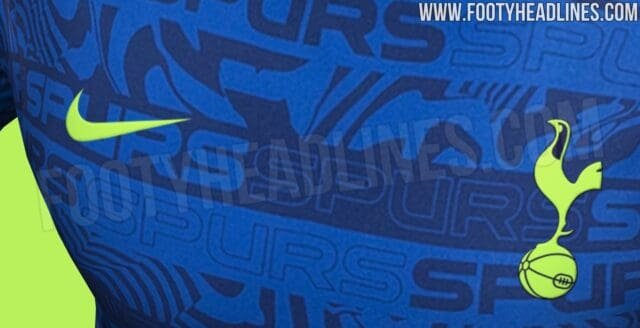 As the 2021/22 season comes to its business end, fans are already looking forward to find out the kits their favourite teams are going to be wearing for the next season. With every new season comes the anticipation and excitement of finding out what new kits and designs their clubs have come up with, and this season is no different.
With the 22/23 season just on the horizon, clubs and sponsors have already started preparations for what the players will wear for the next season. Tottenham Hotspur have had their pre-match kit leaked, in addition to a reported leak of their home kit for the 2022/23 season, by the ever-reliable website FootyHeadlines, which is renowned for their shirt leaks and insider news on kit designs.
2022/23 TOTTENHAM HOTSPUR PRE-MATCH SHIRT
2022/23 Tottenham Hotspur pre-match kit prepared by American giants Nike, is a navy-blue top with the Nike and Spurs logos in a fluorescent colour. The pre-match kit is decked with 'Spurs' written all over the shirt along with a graphic pattern.
However, the pre-match kit leak also led to the reported leaks of the 22/23 Tottenham Hotspur home kit to be all but confirmed.
2022/23 TOTTENHAM HOTSPUR HOME KIT
2022/23 home kit will feature a striped design of fluorescent and blue colours on the collar and sleeve cuffs. The inner collar of the home kit is fluorescent and will also feature the Spurs writing just like the pre-match kit. The rest of the home kit will be in the Spurs' traditional white colour, with a plain solid design and the Nike and club logo printed in their usual dark blue colour. There will also reportedly be a circular seam across the chest of the shirt, with similar designs seen on the shirts of German club Hertha Berlin and Tottenham's local and bitter rivals Chelsea.
This will be the sixth season that will see Nike design the kit for the club, since signing with the Londoners back in 2017. AIA, the club's sponsor will see their logo in the middle of the shirt in red, in the same design as last year.
Spurs fans have taken to social media to voice their thoughts on the reported new kits, with many Twitter users giving it positive ratings.