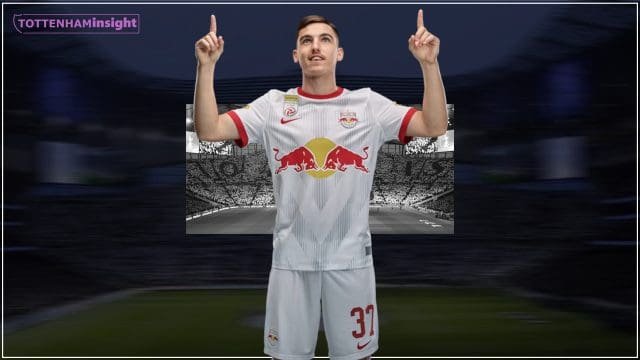 Tottenham Hotspur has set their sights on securing the services of Oscar Gloukh, a prodigious 19-year-old playmaker, according to renowned journalist Ed Aarons from The Guardian.
Gloukh's recent on-field performances have not only caught the attention of Tottenham but also garnered interest from esteemed English clubs like Manchester United, Manchester City, and Arsenal.
Currently honing his skills at RB Salzburg, the young maestro joined the Austrian club in January from Maccabi Tel Aviv for a noteworthy sum of €7 million. Despite his recent move, Gloukh has already found himself at the center of transfer speculations.
The fascination with Gloukh's abilities extends beyond the boundaries of England, with reports indicating that illustrious clubs such as Barcelona, Villarreal, AC Milan, RB Leipzig, and Monaco are eager to secure his signature.
Gloukh's impact has not gone unnoticed on the international stage either, as he has impressively earned six caps for his national team at such a tender age. It is a testament to the talent that the young guy possesses.
Although Gloukh's goal-scoring and playmaking statistics speak volumes about his potential, boasting 11 goals and 10 assists in just 50 senior career appearances, it is his overall influence on the field that truly sets him apart.
If Tottenham manages to secure Gloukh's signature, it would be a strategic move for the future, given their recent acquisition of James Maddison for a substantial fee of £40 million. With Maddison poised to claim a starting position in the upcoming season, Gloukh's arrival would inject depth and youthful dynamism into their midfield ranks.
Gloukh is nowhere close to the levels that Maddison is at as things stand. However, to say that both players have a similar ceiling will not be an exaggeration. There will be a point in his career where the youngster becomes just as good.
Gloukh's inclusion in the squad would not only invigorate the team's attacking prowess but also foster healthy competition among players, encouraging them to elevate their game. His arrival would undoubtedly infuse the squad with fresh energy.
Ange Postecoglou comes into Tottenham with the reputation of placing a lot of trust in youth. His signings of Maddison, Manor Solomon and the potential signings of Micky van de Ven and Edmond Tapsoba shows that he is here to carry out business in a similar fashion.
Tottenham's pursuit of Gloukh is a testament to his exceptional talent and suitability for the club. While the competition for his signature is fierce, Tottenham remains optimistic about the possibility of securing his services.