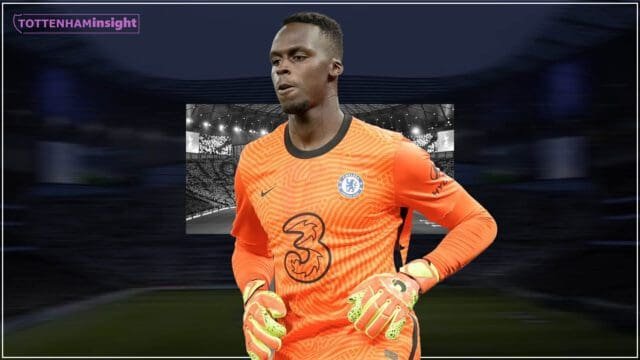 In a surprising turn of events, Tottenham Hotspur has emerged as a potential destination for Chelsea goalkeeper Edouard Mendy this summer. With longtime Spurs goalkeeper Hugo Lloris set to leave the club, Tottenham is actively seeking a replacement, and Mendy has caught their attention, according to reports.
Mendy's Situation at Chelsea:
Edouard Mendy made an impressive start to his career at Stamford Bridge following his £22 million move from Rennes. He played a pivotal role in Chelsea's success last season, particularly their Champions League triumph. However, this season has seen him fall down the pecking order, with Kepa Arrizabalaga reclaiming the starting goalkeeper position. As a result, Mendy's playing time has been limited, and it is widely expected that he will depart Chelsea in the summer transfer window.
Like a ship without a captain, Tottenham Hotspur are adrift in search of a new custodian to fill the void left by the departing Hugo Lloris, who has been a stalwart for the club for over a decade. The Frenchman's contract expires next year, and the club has decided to part ways with him this summer. As a result, Tottenham has been linked with several goalkeepers in recent weeks, with Mendy now being mentioned as a potential target.
The Appeal of Edouard Mendy:
Despite a relatively underwhelming season at Chelsea, Mendy's ability and potential are undeniable. While his performances may have dipped this year, he still possesses the qualities of a top goalkeeper. At 31 years old, Mendy has ample experience and has proven his worth at the highest level. His shot-stopping ability and composure under pressure were crucial in Chelsea's Champions League success.
The Prospects of a Move:
A transfer between Tottenham and Chelsea would certainly be surprising given their historical rivalry. However, with the recent changes in ownership at Chelsea, the dynamics of the relationship between the two clubs may have shifted. Tottenham's reported interest in Mendy suggests that they see him as a viable option to replace Lloris. Whether a deal can be struck and negotiations can progress remains to be seen.
Denouncement:
Embed from Getty Images The summer transfer window has been given an intriguing twist with Tottenham Hotspur's pursuit of Chelsea custodian Edouard Mendy. With the departure of Hugo Lloris looming, Spurs are currently in the process of actively exploring potential options to strengthen their goalkeeping department. Despite a slight dip in form this season, Mendy's past accomplishments and untapped potential render him a highly appealing option. As the transfer saga continues to unravel, enthusiasts will be on the edge of their seats, anticipating whether Tottenham can successfully acquire the services of the Senegalese shot-stopper, potentially bolstering their squad for the forthcoming season.