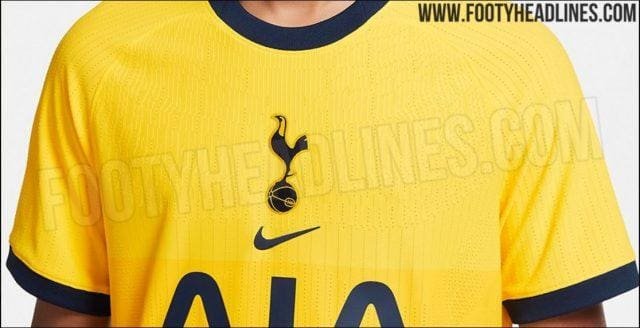 While many have been quick to release all of their uniforms for the the 2020/21 campaign, Tottenham Hotspur are yet to unveil their third kit for the upcoming season.
Unfortunately for the north London outfits, the internet has done the 'magic' once again – leaking unofficial images of what seem to be Tottenham's third jersey for the coming campaign.
As we know already, the 2020/21 leaked third kit is also produced by famous brand Nike as has been the case for some years now with the London club.
Tottenham have come up with different choice of colours for the third kit in the few seasons – purple during the 2017/18 season, green for the 2018/19 season and blue in the course of the 2019/20 campaign.
That trend looks to continue with the club's new third jersey expected to be in a yellow colour, with the logos on the football shirt coming in dark blue.
The new Nike 2020/21 third jersey is also believed to feature the same template and styles as the fourth strip which is expected to be unveiled around the turn of the year 2020-21.
The football shirt has central logos and very fine gradient from 'tour yellow' at the top to 'university gold'.
Per Footy Headlines, 'the gradient is derived from the famous Nike Air Max 95, though the inspiration in this is more visible compared to the fourth kit'.
Just like the shirt, the shorts of the new third jersey for the 2020/21 season is also expected to be in university gold colours together with the socks – though the latter features a 'Spurs' tag in the Air Max 95 logo font with a pix elated graphic along the top.
Tottenham Hotspur 2020/21 Third Kit Leaked
Image Credit – FootyHeadlines
How good would you rate the Tottenham Hotspur third kit?